'The Joe Schmo Show' Revived for New Season at TBS
TBS is reviving The Joe Schmo Show, breathing new life into the reality prank series which aired its third season 10 years ago on Spike.
The show's revival was announced by Kathleen Finch during the Warner Bros. Discovery Upfront presentation at Madison Square Garden in New York City on Wednesday, May 17. The latest season of the series will be hosted by Cat Deeley, who is best known for So You Think You Can Dance.
Season 4 of The Joe Schmo Show will follow another show within a show, taking aim at the absurdity of reality TV by making a regular guy believe he is competing on a reality show, when he's actually being pranked in an elaborate scheme. Surrounded by a cast of highly skilled improv comedians, the unsuspecting individual's reactions to their behaviors is where the comedy of it all comes from.
Originally debuting in 2003, The Joe Schmo Show was watched by more than 44 million viewers during its initial run, an this new take on the iconic format promises to be even bigger, wilder, and more mind-blowing than past iterations.
"When The Joe Schmo Show launched 20 years ago, it was ahead of its time," said Jason Sarlanis, President, Turner Networks, ID, and HLN, linear & streaming. "In rebooting this classic for a modern, savvy audience, it gives us the opportunity to comment on the often absurd and hilarious tropes of reality television in ways our viewers will love."
The series will be produced for TBS by MTV Entertainment Studios and Fly on the Wall, with original creators Rhett Reese and Paul Wernick also attached. Stay tuned for more on The Joe Schmo Show as Season 4 takes shape.
The Joe Schmo Show, Season Premiere, TBA, TBS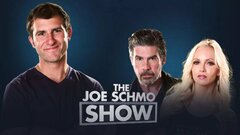 Powered by