WWE Total Divas Season 6, Episode 7 Recap: A Win-Wine Situation
On last night's WWE Total Divas, the upcoming brand extension has the ladies concerned. That's because, with different superstars on Raw and SmackDown Live!, it could mean their wrestler significant others may end up on separate shows and touring schedules.
Despite the uncertainty, Paige is happy to be back on TV and working more. Things end up taking a turn for the worst when something popped in her shoulder during a match after just returning to the ring. Eva Marie goes to San Antonio to spend some time with Paige, who moved to Texas to be with boyfriend Alberto Del Rio.
The two have had their differences over the years but are on better terms these days. They bond, venturing through the city and even visiting a snake farm. Eva can see Paige is genuinely in a good place and learned a little more about her. Paige not only moved in with Alberto in a matter of months, but has gotten closer to his children — she even tattooed his name on her body. This gets Eva thinking she is moving a little fast.
Paige confides in Eva that her neck has been bothering her and asks her not to tell anyone. She fears it would impact her career adversely in WWE with the brand extension looming. Marc Carrano from talent relations takes Paige to the side to reveal he knows about her ailments. He says they can't have her go out there and perform without getting the grappler checked out first. Paige is furious with Eva for spilling the beans and goes off on her. Eva is confused because she never said anything to anyone. Nattie didn't even know the neck problems were a secret with Paige walking around nursing her neck. Paige then turns her anger to Nattie, who thinks she should have let WWE know anyway.
Speaking of Nattie, she was given news she would be turning heel — into a villain — on television. She is understandably a little apprehensive, since she has been a fan favorite for the last five years. The wrestler isn't sure if this is a good idea. Beating up her tag team partner gets cheers instead of boos, which is not the reaction she wants. The social media feedback has been strong with fans lashing out, which makes Nattie concerned that she will lose followers as a result of the character change. Her next appearance gets no reaction.
Nattie is frustrated thinking that fans are confused and if the heel turn fails then she will be let go. Summer Rae volunteers to buy Nattie's cats if she loses her job and needs the money….well only Charlotte "because the other cats are ugly." I miss the banter between these two frenemies. Natalya has some ideas to make sure the turn is successful, like wearing a black wig and aligning with the heat magnet Eva Marie. Carrano doesn't think it's a good idea.
The tide eventually turned with fans booing. Mean Nattie is gaining some momentum, which makes her happy. Pro wrestling is a unique place.
Nikki and Brie Bella head to Napa for wine tasting. It's partly a business trip for Nikki, who wants to start a Bella wine brand. Brie feels Nikki looks to do more and more because she wants to keep up with boyfriend and overachiever John Cena. Nikki wants Brie on board with her latest business aspirations. The twins have dinner with winemaker friends to further discuss the business. They get a hands-on insight on what goes into making product. I was expecting the scene right out of I Love Lucy, but that was not the case.
Brie is impressed by Nikki's determination. However, she still thinks Nikki is trying to fill a void with John always busy. Nikki doesn't feel that is the case and is driven to be more successful than John. Husband Bryan helps Brie see that she was wrong and that Nikki has always been determined.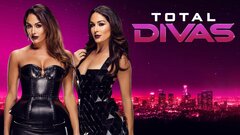 Powered by