'CSI: Vegas': Eric Szmanda Talks Greg's Next Step & Leaves Door Open to Future Return
[Warning: The below contains MAJOR spoilers for CSI: Vegas Season 2 Episode 19, "Dead Memories."]
And with that, Greg Sanders (Eric Szmanda) has left the Crime Lab once again.
In the latest CSI: Vegas, the original series vet speaks with Max (Paula Newsome) about his next steps: to become a professor. First, he needs his Ph.D., and fortunately, while all the best schools have just gone through their admissions cycles, she has an old friend at Northwestern with an opening that would be perfect for him.
But is Greg heading to Chicago? We spoke with Szmanda about his return and what the future might hold for him in the world of CSI.
How was it stepping back into Greg's shoes and the world of CSI?
Eric Szmanda: It was a dream come true to be back as Greg, I have missed playing this character, and I've missed the world of CSI. I watched the first season and I was just sitting on the sidelines hoping that they would call me to play.
And then how was it to say goodbye to him again?
Well, I don't think I'm saying goodbye to Greg. This was left open-ended intentionally. In my conversations with the showrunner, Jason Tracy, they've always been very positive. We've been in talks about doing this for a while, and for creative reasons and for timing purposes, it could only fit in when it did at the end of this season. But as Jason told me, they love my character and intentionally left it open-ended, and nothing's off the table. So that combined with the fans' very overwhelmingly positive reaction to Greg coming back, I think it's likely that Greg will be back.
What had you known about when you signed on to return? Did you know that it led to him deciding to become a professor?
I didn't know anything about the arc coming into it. I went into it blindly and just trusted that the writers would take good care of Greg.
Talk about reuniting with Marg and then also Greg reuniting with Catherine — I loved the hug at the crime scene.
I love working with Marg Helgenberger. She's like a big sister to me. I wish I had got to work with her more, but we poured all the love we have for each other into that hug.
So Greg's off to Chicago with the plan being to become Professor Sanders…
Greg is not off to Chicago — yet. Greg was given a phone number of a person who might have a position for him in Chicago. But we have to remember that Greg was born and raised on the west coast. He's lived in Las Vegas for the last 20-plus years. I've lived in Chicago. I know it's not for everybody. But I think Greg is very appreciative of the thoughtfulness of Max's generosity with the offer. But I think that there's more to be determined,
But the next step is that he will possibly eventually become Professor Sanders wherever he ends up. What makes this the right step for him now, especially after this time back at the crime lab?
I can tell you that when I came back on set, it was a pretty significant revelation for me that there comes a time in our lives when we move from student to teacher, and I think that that was very apparent in Greg's scene with Penny in his first episode back. Greg was finding his voice in the moment of how he's going to present information and how he's going to try to pull information and help the team reach their conclusions based on the experience and knowledge that he brought to the table. And so he's flirting with the idea of becoming a teacher because he does have all of this information, which isn't utilized unless he is in some type of supervisor position.
So, when he gets the call from Max to come in and fill in for the night shift supervisor, Greg finds himself finally in this position that he has coveted for so long. It was a glass ceiling for Greg for 15 years, and I think Greg and I both went through the same moment when the show ended, where we realized that we spent the last 15 years in the same position. While Greg did move from lab tech to field investigator, there comes a point when you have to spread your wings, and whether that is Greg becoming a professor or Greg moving into a full-time supervisor position, I think Greg just wants more.
Talk about working with Paula and the Greg and Max dynamic because that was so great.
With my first name list with Max, I needed to know what the history was between the two of them. I wasn't given a whole lot by the writers, so I had to fill in some of the blanks, and so I wrote out just kind of a little backstory between Greg and Max. I approached Paula with it before we started shooting, and I told her that I figured that just based on what was written, that Greg and Max had worked together previously and that Max knew what a great CSI Greg is, and that his reputation preceded himself. So when she needed someone to fill in, she already knew that Greg wanted to come back because they had kept in touch.
I wanted to establish that there was a certain degree of comfortableness between the two of us, and so when I told her, "We've known each other for years, that we worked together when you took over for Catherine and then Greg decided to take some time away, but let you know that he wanted to come back if you ever needed someone." So that's why when you see the two of us together for the first time, it seems that there's some history and some intimacy between us, and I'm glad that came through.
In tonight's episode, we get the callback to Greg's attack, which I hadn't been expecting to hear about, but then it made sense to bring it up because of what happened to Max.
Yeah, Greg has been through a lot in over the 15 years, and I didn't really realize it until I signed on to do this and I wanted to refresh myself on Greg's timeline. I looked, I was like, "Wow, between getting beat up and blown up and taken to trial for accidentally killing somebody in self-defense, it was just — yeah, Greg's been on a rollercoaster." And I think that all of that experience and all those hardships and all of those challenges that Greg has faced make him a really great member of the team.
What's going on in his personal life? We didn't hear anything.
Yeah. Well, there was a lot to cover, and there's only so much time, but I'm hoping if Greg comes back, we'll find out a little bit more about where he's been and what he's been up to. But I kind of like the mystery and intrigue of it all, and I'm glad that people want to do more.
Looking back on the original CSI, what do you remember the most, especially after returning for Vegas? The Crime Lab is so different and looks amazing.
The Crime Lab does look amazing. I was blown away by the massiveness of it. What I remember and what I loved the most about the original CSI was the passion that everybody had for solving the case and the competition, the friendly competition that we all had to be the first to crack the case or be the first one to find the clue that helps everyone get to the finish line.
I really love that in life, just that quest for knowledge and the quest to find the answer and to get to the bottom of things, and also just reaching a solution, coming to an agreement, and just the game of it all. That's what I remember most. And in that competition and in that quest, how much it brought us all together. We were a close-knit family and a team for a long time, and I miss that camaraderie.
CSI: Vegas, Thursdays, 10/9c, CBS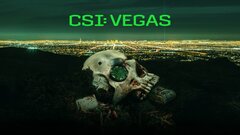 Powered by