'Ghosts' Star Danielle Pinnock on (Finally) Solving Alberta's Murder Mystery
[Warning: The below contains MAJOR spoilers for Ghosts Season 2, Episode 21, "Whodunnit."]
Ghosts finally solved one of its biggest mysteries regarding the death of Miss Alberta Haynes (Danielle Pinnock), and revelations brought to light the individual responsible for her untimely demise.
It turns out that it was Hetty's (Rebecca Wisocky) son, Thomas (Daniel Rindress-Kay), who poisoned the singer in a rage of jealousy. Alberta's bootlegger boyfriend, Earl, was involved with Thomas, but after breaking things off, Thomas left a tainted bottle of moonshine at Alberta's dressing room door, leading to her death.
The truth came out as Alberta began suspecting her sister was responsible and Hetty couldn't let Alberta think that, so she finally fessed up that she knew the truth. Needless to say, the truth bomb didn't land with the kindness and understanding that Hetty may have hoped for, putting a tear in the women's relationship.
Below, Pinnock opens up about finally learning the truth about Alberta's death, teases what could be next, and much more.
Did you ever imagine Alberta's death would play out like it does?
Danielle Pinnock: No. Honestly, I thought it was gonna be her sister Theresa. Anytime I watch a murder documentary, I always think it's somebody in the family or the boyfriend or the girlfriend and then come to find out it was the neighbor, you know? I feel like that's exactly what the writers have done. Joe Portman and Joe Wiseman truly had me confused. I was like, "Oh my God, it's Hetty's Thomas?!" I think it just adds such a great layer to Alberta and Earl's relationship. I love the fact that it was somebody that was related to Hetty and that she's been gaslighting her for the last hundred years. You see that very early on in Season 1, where she's like, "Girl, you know it was a heart attack." It just adds so much more to what we can play with as actors as well.
Hetty's son was Alberta's killer, and her withholding of that information leads to a rift between Alberta and her. Where will that lead as the rest of the season plays out?
The beauty of these next two episodes specifically is that we see this very strong Victorian woman have to learn how to beg. I think the thing with Alberta and Hetty's relationship beyond the screen and beyond what people see on CBS — and this is something that Rebecca and I have talked about — is that it probably took a lot for these women to have the mutual love and respect and admiration that they have for each other simply because of race.
In the 1920s, Alberta is a proud Black woman from the Harlem Renaissance, and Hetty is a Victorian woman who we know hates the Irish and had children in these weird labor situations. So in these last hundred years, they've been able to work through that. They developed this incredible respect and love for each other. They may not necessarily be best friends, but the respect and love is there. And now with Hetty's lie, it has unraveled the hard work. And I think that's something a lot of audiences can relate to. It's gonna take a minute for them to really find what the friendship looks like now.
Is Alberta more upset over the fact that Hetty kept it a secret that she knew how she died or that she wouldn't fess up about who the killer was?
I think it's all of it. If a friend had lied to me just even about the smallest thing and then I found that not only was a family member of theirs involved, their lie is quite literally the reason why I died early… I would've been beyond upset, you know? Alberta's death came early. She was a young woman when she passed away. It's the reason why we see in the episode "Alberta's Descendant" that her great-great grandniece comes to the B&B. She's always wanted to be a parent. With that death, she lost her hope, she lost her dreams, she lost her desires, and she's just now getting those things back because Sam is able to see all of them.
So there are those new avenues for love and romance and the solving of murders, but she's still unable to touch things. She was still unable to live life and become a larger star than she could have. She still wasn't able to end up being with Earl or breaking up with Earl or finding a new version of Earl. Those are all the things that life brings. And in some ways, Alberta probably feels like Hetty took those things away from her. Even though it was Hetty's Thomas, you know, her son. So, it's a massive heartbreak on many different levels.
Does knowing Earl was breaking up with Thomas for her make the reality of her death sting even more?
Exactly. The thing with the poisoning is Thomas was probably so in love with Earl that he was like, "If I can't have him, no one can." So then he decided to poison his heart. And I do believe that Earl was bisexual. I do believe that, and I love that we're delving into that on broadcast TV. It's definitely a topic that we need to discuss more on television. And I love that all of this is just such a hot mess. I've been saying that since Season 1: This character is a hot mess with a heart of gold.
What was it like getting to bring Woodstone back to the 1920s?
It was absolutely fabulous. This was an episode that the Joes and I talked a lot about, and I'm gonna bring up a scene in particular. There was a scene where Alberta, we see her braids. Those things weren't written in the scene. I brought those to the Joes because one of the most vulnerable scenes that I've seen on broadcast TV was Viola Davis when she showcased her braids underneath her wig in How to Get Away with Murder. I remember [thinking] I've never seen anything that transformative on broadcast TV before from a Black woman, because usually, we're always so put together. We always know exactly what we're gonna do. But in a way, this was my metaphor of Alberta preparing herself for her own death.
We know who Alberta is. This woman is so self-centered. She is meticulous when it comes to her image. So if she needed to have a hand in that as well, she's not gonna trust anybody to get her hair right. She needs to do it herself. The showrunners were like, "We love this idea. You just go and do what you wanna do." It's such a beautiful moment. It's the moment that she's most vulnerable with her bootlegger boyfriend Earl that she loved so much.
It's no secret that Hetty has her hangups about modern living. Do you think her reluctance to be honest with Alberta stemmed from her feelings around her son's life?
Well, I think there's a little bit about that, but I also feel like with Isaac coming out, that may have led her to open up a little bit more. For these people, Isaac and Hetty specifically, they came during a time period where free love wasn't a thing. We see that more so in the 1920s with the Harlem Renaissance, and we also see that obviously with Flower in the '70s. So this idea of sexual fluidity and the LGBTQIA+ of it all wasn't a thing. So I think her holding Isaac's hand through his coming out story may have informed her to say, "You know what? I think I'm ready to share this about my son."
Ghosts, Thursdays, 8:30/7:30c, CBS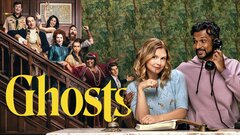 Ghosts
where to stream
Powered by