Jennifer Grey Explains Why She Decided Not to Return to 'Friends'
Jennifer Grey could have been a recurring presence on Friends instead of a one-off guest star, but her anxiety got the better of her, she says.
In a recent interview with MediaVillage, Grey discusses getting (and giving up) the part of Mindy Hunter, best friend of Rachel (Jennifer Aniston) and maid-of-honor at her canceled wedding to Barry Farber on Friends. As viewers learn, Mindy ultimately accompanied Barry on what would have been Rachel's honeymoon. But in the first-season episode "The One With The Evil Orthodontist," Barry cheats on Mindy with Rachel, and eventually, both women confront the philandering doc.
"I was a fan of the show, and I got the call to do it," Grey says. "Then when I did it, I had such bad anxiety because they kept changing the script. It's very hard to be a guest star because you're not a part of it, and you're really trying to figure it all out. They were trying to figure out what the character was, what the scene was, and it was changing, and changing, and changing. It all made me so anxious that I could barely do it."
She adds: "I didn't know at the time what was going on with me. But I had a lot of performance anxiety, and I just didn't understand at that time that I needed help in the anxiety department."
Grey says that the Friends producers asked her to come back to the show, but she said no. (In her stead, Jana Marie Hupp played Mindy in Season 2's "The One With Barry And Mindy's Wedding.") And Grey reveals she also declined doing Saturday Night Live.
"It makes me sad that I would say no to continuing on Friends or doing Saturday Night Live because of my anxiety," Grey tells MediaVillage. "The truth is, I wished I had people to help me navigate that kind of fear. But I couldn't be there until I was there."
Nowadays, though, the Dirty Dancing actor is philosophical about those missed opportunities. "Everything you do in life, especially the hard things, the really painful, difficult things, are usually the things that are the most instructive and helpful," she says. "In life, I always learn more from things that you feel like a failure at, and the successes, you don't learn as much, although, they might be fun. But it's all a part of life."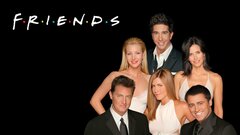 Friends
where to stream
Powered by