'SVU': See Kelli Giddish's Pregnant Rollins Reunite With Benson in Set Photos
Kelli Giddish is returning to Law & Order: SVU, and set photos from her upcoming appearance reveal that Amanda Rollins will be very pregnant when appearing in the Season 24 finale.
Giddish left SVU in December 2022. Rollins' final episode as a series regular featured her wedding with ADA Sonny Carisi, and now she's pregnant with their first child together (her third overall — she has daughters, Jesse and Billie, from previous relationships). Based on the photos from the set, it seems baby No. 3 will be arriving soon.
Giddish and Mariska Hargitay switch from serious faces to excited glee in the photos from the set (below). They pose for the camera as Hargitay holds the baby bump, and the shots also feature Chris Meloni as Elliot Stabler. Giddish will also be appearing in the penultimate episode of Meloni's Law & Order: Organized Crime Season 3, which could explain why he's on set with his longtime SVU co-stars.
The trio appears to be investigating a crime scene in the more serious shots. Check out the reunion:
More of @KelliGiddish in the SVU set (one of the photo was taken by one of our team). pic.twitter.com/xtJzbP1GDR

— Law & Order SVU (@NBCSVU_fans) April 18, 2023
@KelliGiddish #KelliGiddish pic.twitter.com/IvLxgsxS4W

— Kelli Giddish Italy & Mariska Hargitay (@KelliGiddishIta) April 18, 2023
📌 NEW@KelliGiddish, @Mariska and @Chris_Meloni on SVU set, filming for @lawandordertv season 24. #MariskaHargitay #KelliGiddish @Chris_Meloni pic.twitter.com/NptTtCpwL1

— Kelli Giddish Italy & Mariska Hargitay (@KelliGiddishIta) April 18, 2023
In the December 2022 episode, Rollins left her job to become an adjunct professor of criminal behavior at Fordham University. Stabler will seek her expertise in Season 3 Episode 21 of Organized Crime on May 11.
"When DNA from an SVU rape investigation connects to an OCCB unsolved murder, Stabler and Benson uncover a revenge-for-hire scheme on the dark web," NBC's logline says. "While Bell and Jet follow the money trail to expose the website's anonymous creator, Stabler asks Professor Rollins for help with a key clue."
Giddish will then return for the season finales of Organized Crime and SVU on Thursday, May 18.
Check out fan reactions to the #Rollivia reunion below.
Rollins and Carisi having kids?! https://t.co/j5h3nsYgP4

— Lilly (@riggslilly1) April 19, 2023
Mariska and Kelli are so happy to be filming together again 🥹 https://t.co/5DJB43Fddm

— Jenna | Rollisi Baby Confirmed ✨ (@one_thinginlife) April 18, 2023
Law & Order: Special Victims Unit, Thursdays, 9/8c, NBC
Law & Order: Organized Crime, Thursdays, 10/9c, NBC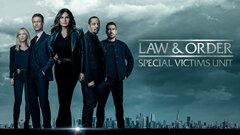 Powered by