Mark Consuelos Makes 'Live' Debut Alongside Wife Kelly Ripa: 'Hayley & Mateo Forever'
It's the start of a new era for ABC's long-running daytime talk show Live as Mark Consuelos has officially kicked off his first day as official co-host alongside his wife, Kelly Ripa.
Consuelos is replacing Ryan Seacrest, who made his final appearance on the show this past Friday, April 14. On Monday's (April 17) episode, Ripa told her husband, "Thank you for joining us… It's as if you've always been here." Earlier in the episode, she joked, "[Consuelos will be] joining me today — and permanently, until one of us dies."
The Riverdale actor replied, "I just want to say a quick thank you for trusting me to be your co-pilot. I really appreciate it," before giving a shout-out to their former All My Children characters. "Thank you America, thank you — Hayley and Mateo forever."
The happy hosting couple also revealed that their middle child, and only daughter, Lola Consuelos, was in the audience.
Ahead of his first episode, Consuelos spoke with The Hollywood Reporter about his feelings heading into this new chapter and why he thinks the show will be a success.
As husband and wife, parents, and business owners, Counselos said that he and Ripa will bring relatability to the show. "I think that's kind of the magic of what we bring," he said.
"We'll be talking about something to happen with the in-laws or with our kids or our friends, or when we were working together on a soap that will take us down [a road], or whatever happened last night as it relates to the conversation. So, I think right when I think like, 'Wait, what are we gonna talk about?' We have this shared history together, and I think it's very relatable."
Despite his high hopes, Counsuelos admitted he initially had doubts about joining the show on a permanent basis. "It's the No. 1 show… I didn't wanna screw anything up. It's like coming onto a championship football team, and the only place to go is down," he shared.
"I was like, 'Wait a minute, I wanna make sure I don't mess anything up,' and [Ripa] reminded me every time we've done it, the response has been amazing. We have a blast. The schedule is really, really good."
He added that they made a "pros and cons list" and that the pros far outweighed the cons. "The cons weren't really cons," he stated. "We've done this together. We've worked on shows together. So, if there were any objections early on, soon we overcame them. Like we realized it's not a big deal."
When asked if Ripa was considering walking away from the show, Counsuelos said, "No, it was just the contracts. The contracts stuff. We figured it'd be a good way to… I don't see us doing this forever, but I hate to talk about the end before we've even started."
The All My Children alum went on to say that he and Ripa will take to the show as a united front and be willing to delve into a number of topics.
"Oh, my gosh, we're gonna take over the world," he joked. "I think communication is always key, and I don't foresee any challenges that I can think of right now… we balance each other out really, really well. When one person is thinking about doing something, I think one of us always uses the other as a sounding board."
"So, I think that will be the one difference, that it's going to be happening in real time for both of us," he continued. "So, she comes with decades of experience on this show. So, I will always ask her about that stuff. And as her husband, she always seeks my counsel. So I think it'll work out really smoothly."
Live With Kelly and Mark, Series Premiere, Monday, April 17, check your local listings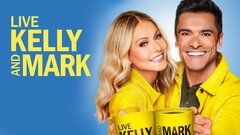 Powered by