'Fire Country': Max Thieriot on Kane Brown's Guest Spot & Why Bode Can't Be That Hopeful
Fire Country may be going a little "Off the Rails" (aptly, with that title) in the April 7 episode.
The crews respond to the scene of a train crash, where the rescue could spiral out of control upon the discovery the train is full of illicit cargo. Plus, singer Kane Brown makes his acting debut as Robin, an enigmatic modern-day train hopper who helps injured patients.
Series star and executive producer Max Thieriot talks about the entertainer's guest spot and what's ahead for Bode.
Talk about bringing in Kane Brown for a guest spot.
Max Thieriot: This was something that CBS had been working with us on, different collaborations and stuff. Kane's name came up and instantly both parties were interested. I had a Zoom meeting with him first and so did [executive producer] Tia [Napolitano] and we just responded to, first of all, how much a great person he is. He's just a wonderful dude, kind. He reminds me honestly a lot of just me. From the moment I met him, I was like, "man, I get you." Kind of quiet. But he was really excited about acting. It's something that he wanted to do for a long time.
The amazing thing was he was interested not just as, "hey, I want to be in an episode." He genuinely wanted to come in and see what it was about and learn and get this experience and really be present and he did all those things and so I was certainly very impressed. But the biggest thing was just figuring out his schedule. Obviously he's busy traveling all over the world right now, so it was figuring out where it would fit in our time slot in the season. Once we knew we had kind that window, Tia and our writers worked on coming up with this role for him that was different from anything we've seen but also wasn't so heavy that it would be a lot to take on for a first role. We worked it out, and it was great. I'm super excited for everybody to see it.
After you had Billy Burke singing onscreen earlier this season, was there ever any talk about having Kane sing or bringing music in a significant way into this episode?
I don't think there was. We didn't really put any emphasis on trying to get Kane to sing or do those things. I knew from the first meeting with him, what he was interested doing is what we do and I got that. Maybe at some point, we can bring him back in to sing. But I think this is primarily just focused on getting him in there and allowing him to act and just work through that process. Obviously he has an incredible voice and he's a phenomenal singer. We utilize his music and I believe we have his music as well in the episode.
Bode and Jake's (Jordan Calloway) friendship is one of the best parts of the show, and the previous episode does a great job of highlighting that. I love that they got to a place, after the pilot, where Bode can tell Jake he'll always have a brother in him, and they can have that conversation they did. Was the plan always to get them pretty solid by this point in the season?
I don't know. We're also learning the full evolution of the characters. But I think in my eyes, yeah, that was the goal. The hope was to see their relationship try and be amended and also to allow the audience to understand Jake's past and what he's been through. Because I think even though a lot of these characters or some of 'em or any of them, they seem like we haven't gotten to know them more, we want all these characters to be complex and have layers and have some flaws like everybody that I know, and so I think this was a great opportunity to bring these guys back together who were best friends. I think that's just kind of a life story. It's just something that a lot of people go through. Friendships have their ups and their downs. But I think ultimately these guys were so solid at one point and were like brothers that we felt like we had to show that again and let the audience see what these guys were once like.
Another standout is Bode's relationships with his parents (Burke and Diane Farr). Bode and Vince have come a long way. Bode using his last name is a big step. But because of that I am so worried about Sharon, especially since the transplant didn't happen. So what can you say about how the family is handling that and what's coming up there?
There's definitely still more coming up there as far as her transplant. We don't leave anything hanging. But yeah, we want to show all these relationships in the highs and lows and have these characters go through a big journey, not just this season but every season, and watch them grow and fall and get back up again.
From the beginning, we saw that Vince and Bode had a tough relationship and Sharon and Bode was like that sort of stereotypical mother-son bond where she'll do anything for her baby boy. At some point, that has to turn a little bit because she's going to be forced to look at herself and go, "you know what, I'm making all these decisions just purely out of what I'm feeling in my heart and maybe not what's the best decision or whatever that is." And so I think will be exciting is to see how their relationship with Bode has its ebbs and flows and can shift what's going on in their life.
Things seem to be looking up for Bode right now. In this next episode, he takes control a bit at the scene, although he's a bit nervous about what's going on, he's doing well at fire camp, things are good with his parents and with Jake, he probably has a future with Gabriela (Stephanie Arcila) to look forward to… How is Bode handling what seems to be some good news all at once?
I think that he doesn't know what to expect. I think Bode is so used to things being pulled away from him right when he's feeling hopeful. And so everybody else is more hopeful than he is because I guess it's like doing a lot of things in life when you feel like you're starting to make that climb to the top, you're just waiting for that fall off the other side. He's more nervous about that than anybody. Everybody's all, "you got this, we're so close to the finish," and in the back of Bode's mind is every time that he's gotten close, it's been pulled away from him. So I think he's scared. There's definitely some fear.
But yeah, certainly he's come a long, long way from when he showed up at fire camp. He's mending relationships, this girl that he was instantly drawn to and has chemistry with, it's reciprocated. And I think he wants so badly to be on the other side and be out and back to what's at least close to a normal life. It's always a journey, right?
Fire Country, Fridays, 9/8c, CBS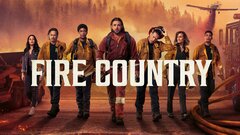 Powered by