'Blue Bloods': Donnie Wahlberg Says Things Are About to Get 'Intense' for Danny & Baez
"When I show up to work, I usually make an announcement of how lucky we are doing a show as beloved as Blue Bloods," Donnie Wahlberg says. Is this guy for real? Yes. Yes, he is.
For the 53-year-old musician-actor-producer, making people happy and having fun doing it are life goals. No wonder his fans follow him through every turn in his career. They attend his New Kids on the Block concerts and Blockhead fan conventions (the next is in Chicago over Memorial Day Weekend), and they spend their Friday nights with CBS' long-running Blue Bloods, and Wahlberg's Det. Danny Reagan and his family.
TV Insider spoke with Wahlberg about his make-'em-laugh approach to the job — as well as a game-changing episode for Danny and his partner, Det. Maria Baez (Marisa Ramirez), his real-life relationship with on-screen dad Tom Selleck, and an upcoming (sort of) Magnum P.I. reunion.
From what I've observed on the set over the years and your many social media postings, you are always so upbeat.
Donnie Wahlberg: Well, I'm 53 and I would say it's probably years of practice and trial and error and understanding. I'm incredibly optimistic because I'm incredibly grateful for every single day and every single moment … It's a blessing to be part of something so successful that means so much to so many people. I dance around the set— even get Tom [Selleck, who plays Reagan patriarch Frank] to do a little shoulder shake — laugh a lot, have fun. I'm sure that could be annoying, but I think it gets us through some of the long tough days when it's really cold and uncomfortable. I'm incredibly optimistic because I'm incredibly grateful.
Does all that happiness from you ever annoy people?
It may. [Laughs] I'm responsible for a lot of bloopers. If I start laughing with someone during a scene, usually I can't stop. I know that can be very annoying. The only time I see the crew roll their eyes is after laughing along with my bloopers for about four or five minutes, they're like, "OK, I really want to get home to dinner tonight. Can you stop laughing, please?"
Does the show take your fans into consideration when breaking storylines?
The entire cast respects our audience tremendously. When we're making scenes, we discuss how they're going to feel. I know a lot of fans want Danny and Baez to date, and when Danny was going on a date with someone else, I was like, "Oh, they're going to be mad, but can we give them something to be happy about later? Can this lead to other positive things?" And it was like, "Yes, it can."
Let's talk about that January 20 episode, when the long-widowed detective made it clear that he's ready to consider romance again and goes on a date with a fellow detective. What did that mean for Danny and Baez's future?
I think that script caught some viewers by surprise. It surprised me. It certainly opens the door for Danny and Baez, but all I know is that they will bond at much deeper levels than they ever had. Marisa and I are incredibly close and we try to bring a lot of that into the show, which has really worked for the audience.
How do they bond?
The [May 12] episode is really intense for the partners. A perp Baez arrested wants revenge and Danny goes all out to protect her and her new baby. There's a dinner and some drinks involved and maybe a sleepover. It's going to really show how important Danny and Baez are to each other. Marisa and I chose to play up a lot more vulnerability than we have typically done in the past. The audience is going to love it!
Speaking of relationships, is the affection between Commissioner Frank Reagan (Selleck) and his eldest son mirrored in real life between you and Tom?
It absolutely mirrors Danny and Frank. Tom and I are very close off-screen. That said, we both approach the show with the same level of commitment, but Tom is very focused and reserved and uses his years of experience in the craft, while I use instinct and feeling, and emotion a lot. But his endorsement and blessing early on revealed to me how much he trusts me to get the job done, much like Frank trusts Danny to get the job done.
Tom's former Magnum P.I. costar Larry Manetti shows up in the April 21 episode as a retired cop who wants vengeance on a dealer who sold fentanyl to his grandson. There's no on-air reunion between the two. Why?
Tom really wanted his old friend on the show, but he didn't want it to be distracting to the audience to have Larry in scenes with him. To his credit, Tom did encourage me to put the picture [of Larry with the Reagan family] on Instagram. He said, "I really want to support that Larry's on the show. Can you do that social media thing?" I was like, "Absolutely." I was really surprised because I always have to ask him to do that.
View this post on Instagram
Blue Bloods was recently renewed for at least one more season. Do you want the show to break records?
I don't know how many seasons the studio and network will make the show, but I can say that I made a commitment to Tom and Bridget [Moynahan, who plays Erin Reagan) in Season 1 that I was with them as long as they wanted to go.
This is an expanded version of TV Guide Magazine's Blue Bloods cover story. For more inside scoop on what's coming to TV and streaming in the weeks ahead, pick up the issue, on newsstands Thursday, April 6.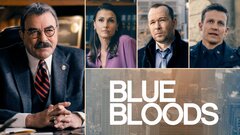 Powered by