Is 'Curb Your Enthusiasm' Ending? Producer Teases 'Final Season'
Curb Your Enthusiasm has had quite the run, from its debut in 2001 to its long-awaited return in 2017, but could the Larry David-led comedy be on its way out for good?
Consulting producer Jon Hayman took to Twitter on March 28 to tease what he's labeling "the last scene of the last episode of the final season." Shortly after sharing the message, he removed the tweet from his page, but as a screenshot, below, indicates, Hayman tweeted, "Maybe you love the show. Maybe you hate the show. Maybe you don't give a shit. In any event, shooting the last scene of the last episode of the final season."
As previously mentioned above, Curb originally debuted in 2001 before going off-air in 2011 following its eighth season. Over five years later in 2017, the show returned for Season 9 and has since aired two additional Seasons 10 and 11. In late 2022, HBO revealed that the show had been renewed for a 12th season with David returning alongside current cast members Jeff Garlin, Susie Essman, J.B. Smoove, Cheryl Hines, Richard Lewis, Vince Vaughn, and Ted Danson.
"Larry outdoes himself season after season and always manages to come back when the audience needs him most. We're thrilled for him, Jeff Schaffer, and our phenomenal cast to continue making us laugh and cringe in equal measure," Amy Gravitt, HBO's Executive Vice President of Programming stated at the time of the renewal.
TV Insider reached out to HBO, who declined to comment at this time.
What do you think about the show's potential ending? Let us know in the comments below, and stay tuned for updates as we look ahead to Season 12!
Curb Your Enthusiasm, Season 12 Premiere, TBA, HBO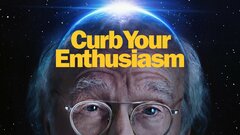 Powered by