'Riverdale': Veronica Reveals Her Past With James Dean in Final Season Premiere Sneak Peek (VIDEO)
Riverdale's final season premiere debuts Wednesday, March 29 on The CW, and the show is going to look a lot like the Archie Comics it's based on when the gang returns to the small screen. In the Riverdale Season 7 premiere exclusive clip above, the series goes back to the beginning with a plot similar to the series premiere, except this time it's set in 1955.
In the '50s-themed video, the gang meets the new girl in town, Veronica (Camila Mendes), and asks her about her Hollywood life. It doesn't take long for her to spill the juicy gossip about the recently departed James Dean. Veronica reveals during her first lunch at her new school that she not only went skinny dipping with the star, but that he also "enjoyed playing both sides of the net — girls and boys."
While Archie (KJ Apa) and Julian (Cheryl's twin brother, played by Nicholas Barasch) try to impress the starlet on her first day at Riverdale High, Cheryl (Madelaine Petsch) sees her as a threat and will formulate a plan to take her down. But how did the gang get thrust back in time in the first place?
In the Riverdale Season 6 finale, Archie, Betty (Lili Reinhart), Veronica, Jughead (Cole Sprouse), Cheryl, and the rest of the crew came together to save the town from Bailey's comet, hurtling towards their home thanks to Season 6 villain Percival (Chris O'Shea). An invisible forcefield blocked anyone from leaving Riverdale, but the group combined their powers and sent Cheryl to hopefully destroy the comet. Riverdale was saved, but was also sent back in time.
The episode's title, "Don't Worry Darling," is fitting. Like the 2022 film of the same name, the characters are now trapped in a different era.
In Wednesday's Season 7 premiere, Jughead is the only one who seems to remember they're from the future. While he tries to remind everyone of this, the crew faces battles fitting the time period in which they find themselves as Toni (Vanessa Morgan), Tabitha (Erinn Westbrook), and Betty take a stand against Principal Featherhead after he stonewalls their attempts to write about the murder of Emmet Till.
Mädchen Amick and Casey Cott also star in the premiere, kicking off at 9/8c. See Veronica's glamorous reentrance into Riverdale society in the full preview above, and be sure to tune into Riverdale's final season premiere on March 29.
Riverdale, Season 7 Premiere, Wednesday, March 29, 9/8c, The CW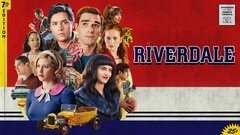 Powered by