'Grey's Anatomy' Renewed for 20th Season, New Showrunner Named
The doctors of Grey Sloan Memorial will scrub in for a landmark 20th season of Grey's Anatomy. ABC has renewed the long-running medical drama for another year, the news coming shortly after Ellen Pompeo's exit as a series regular.
In addition, Meg Marinis will take over as showrunner, according to The Hollywood Reporter. Marinis started as a writer's production assistant in Season 3 and became a medical researcher in Season 6. She then earned a promotion every year between Season 11 and Season 15, going from story editor to executive story editor, producer, co-executive producer, and finally executive producer. She has also written 26 episodes of the show, most recently penning this season's "Wasn't Expecting That."
Marinis replaces Krista Vernoff, who announced her decision to step down as executive producer of both Grey's and spinoff Station 19 in January. "It has been the privilege of a lifetime to be entrusted to run Grey's Anatomy for the past six years and Station 19 for the last four," Vernoff said in a statement to Deadline at the time. "The passion of the dedicated fandoms and the impact that these shows have on hearts and minds cannot be overstated. The amount of talent in these two extraordinary casts and these two brilliant writers rooms is beyond measure — and these crews work magic week after week."
ABC has yet to renew Station 19 for a seventh season. As Deadline reports, the network usually renews both shows at once, but it's likely that Grey's Anatomy's firefighter offshoot will return.
Currently in the middle of its 19th season, Grey's Anatomy averages 10.7 million viewers across all platforms in 35-day ratings, and it ranks as ABC's top-rated entertainment series in the 18-to-49-year-old demo and a top-five drama in that demo across all of broadcast TV, according to The Hollywood Reporter.
Pompeo stepped back from Grey's Anatomy in February after starring as Dr. Meredith Grey for more than 400 episodes. Additionally, Grey's star Kelly McCreary told fans last week she will leave the show this season, with Dr. Maggie Pierce's last episode as a regular character scheduled for April 13. Meanwhile, the Grey's Anatomy Season 19 finale is scheduled for May 18, with both Pompeo and McCreary returning for guest appearances as the season wraps up.
Grey's Anatomy, Thursdays, 8/7c, ABC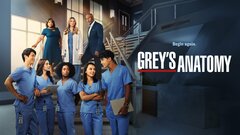 Powered by