'Grey's Anatomy' Star Kelly McCreary Is Leaving Show After 9 Seasons
And then there was one sister.
Kelly McCreary will be exiting Grey's Anatomy in Season 19, Deadline reports. The farewell for McCreary, who has played Meredith's (Ellen Pompeo) and head of cardiothoracic surgery Dr. Maggie Pierce for nine years, will air on April 13. (Her first episode was Season 10 Episode 23 "Everything I Try to Do, Nothing Seems to Turn Out Right.") We already know, however, that she will return before Season 19 ends.
McCreary's exit is coming soon after Pompeo's farewell. Meredith moved to Boston in the February 23 winter premiere, but she will appear again in the Season 19 finale. This will leave Dr. Amelia Shepherd (Caterina Scorsone) as Meredith's only sister (in-law) left on the show full-time.
"After nine seasons, I am saying goodbye to Maggie Pierce and her Grey Sloan family. It has been a tremendous honor to be a part of such a legendary television institution as Grey's Anatomy. I will always be grateful to Shonda Rhimes, Krista Vernoff, and ABC for the opportunity, and to the incredible fans for their passionate support. To spend nine years exploring a character inside and out, while reaching a global audience with impactful stories, is a rare gift," McCreary said in a statement to Deadline.
"It has afforded me an opportunity to collaborate with, learn from, and be inspired by countless brilliant artists both in front of and behind the camera," she continued. "Playing Maggie Pierce has been one of the true joys of my life and I leave with profound gratitude for every step of this journey. I am excited for this next chapter, and what the future holds."
Added showrunner Krista Vernoff (who is also exiting, at the end of the season), "Kelly McCreary is a writer's dream come true; brilliant, nuanced, thoughtful, and kind. We will deeply miss her and her beautifully crafted Dr. Maggie Pierce."
As for how Grey's Anatomy will write out Maggie, according to the report, McCreary spoke to the producers with enough time for her story this season to be part of that. And considering that it doesn't look like she and her husband, Dr. Winston Ndugu (Anthony Hill), are going to be able to patch things up so easily — Maggie even told Amelia she'd look into staying at a hotel, versus continuing to crash in her guest room, in the latest episode — we can't help but feel like she'll be leaving alone (just like Meredith did, with regards to Scott Speedman's Nick).
But where might Maggie be heading, since it's hard to imagine her just sticking around in Seattle and not working at the hospital? Could she be following Meredith to Boston for some reason? Could she be recruited by another hospital? How will her exit affect her father, Dr. Richard Webber (James Pickens Jr.)? Since she's returning, we know she won't be killed off … yet? And what will bring her (temporarily) back? The same thing that leads to Meredith's return or something else?
We'll have to wait and see (and hope that Meredith isn't about to tragically lose another sister, when Maggie does return).
Grey's Anatomy, Thursdays, 9/8c, ABC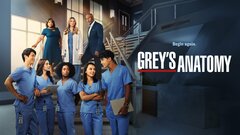 Powered by