'Party Down' Sneak Peek: Lydia Wants Escapade to Have the Perfect Prom (VIDEO)
Party Down is throwing one heck of a shindig for Lydia's (Megan Mullally) daughter Escapade (Yellowjackets' Liv Hewson) in the fifth episode aptly titled, "'Once Upon a Time' Proms Away Prom-otional Event," and we have your exclusive first look.
As fans have seen in the new season, Lydia took over as her daughter's full-time manager as Escapade broke big in the years between Party Down's second season and its TV return. Worried that Escapade missed out on her childhood in order to become a star, Lydia decides to plan a "prom" promotional event for Escapade's newest movie.
Despite it being a work-related engagement, Lydia's really concerned about her daughter having a great time as she turns to the Party Down team to help encourage Escapade to have fun."I mean, is she having fun? Like real fun?" Lydia says desperately, turning to Kyle (Ryan Hansen) and Sackson (Tyrel Jackson Williams).
"Sackson, Sackson, you do computer dances like the Gobot and the Schmazz," she notes, "go make her dance." The order is understandable as Sackson is the team's resident influencer. Taking her direction, Sackson walks over to Escapade and gets her to dance for a few minutes.
"I just want her never not having fun, okay?" Lydia encourages before a left-out Kyle chimes in.
"So, you want me in on this one?" he asks Lydia, gearing up to hit the dance floor. She bursts his bubble pretty quickly when she says, "Oh, actually, Kyle, it's her prom. So, I think she should be having a cool fun time like kids."
"Yeah no,  just thought she always used to think I was pretty cool and fun," Kyle replies awkwardly.
See what else Lydia has to say in the hilarious first look, above, and don't miss Party Down's latest episode, written by John Enbom and directed by Viet Nguyen when it arrives on Starz.
Party Down, Season 3, Fridays, Starz & the Starz app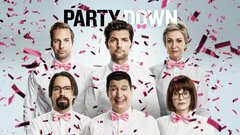 Powered by