'Party Down' Hosts Nick Offerman in 'Parks and Rec' Reunion With Adam Scott (PHOTO)
Party Down is no stranger to celebrity guest stars, and Season 3 has been no exception with several famous faces joining the cult comedy since its return to TV. And now, with the March 10 episode, the show is hosting a special Parks and Recreation reunion.
Nick Offerman is joining former costar and Party Down lead Adam Scott for the third episode of the revived series' third season, "First Annual PI2A Symposium." According to the episode's logline, Ron (Ken Marino) is desperate to keep Party Down afloat, so he books an event for an extremely problematic group leading to complications for everyone. It was written by John Enbom and directed by Judy Weng.
While fans will have to tune in to see how it all unfolds, Scott teased his reunion with Offerman, who featured alongside him in Parks for six seasons (see photo above). As viewers will recall, Scott joined the former NBC comedy in the second of its seven-season run.
Previously announced already, Offerman's role isn't much of a surprise, but a first look at the duo back together is sure to make Parks fans excited for their onscreen reunion. For those less familiar with their prior roles, Offerman portrayed the loveable curmudgeon and public service worker Ron Swanson alongside Scott's Ben Wyatt, who entered the series as an auditor reviewing Pawnee, Indiana's budgets.
Upon sharing the photo of himself and Offerman (top), Scott tweeted, "On Friday, a very special episode of Party Down." The reunion also extends to Party Down's other costar Megan Mullally who is only credited in the upcoming episode but also appeared on Parks as Swanson's second ex-wife Tammy 2; in real life, she's married to Offerman.
While it's fun to see the pair back together, they've also had great success in their own projects recently, with Scott leading Apple TV+'s drama Severance and Offerman garnering a wave of praise for his role as Bill in HBO's adaptation of The Last of Us.
Still, this is one reunion fans won't want to miss. Catch Scott and Offerman in the March 10 episode of Party Down, and stay tuned for more fun surprises as Season 3 continues to unfold on Starz.
Party Down, Season 3, Fridays, Starz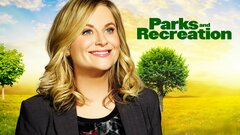 Powered by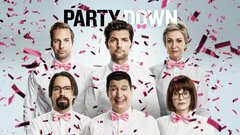 Powered by