'The Masked Singer': Axolotl Reveals Why Performance Was Personal for Her & Husband
[Warning: The below contains MAJOR spoilers for The Masked Singer Season 9 Episode 6 "Country Night."]
The masked celebrities got a little bit country as the ninth season of the Fox hit continued.
Returning was Fairy, who faced off with Axolotl and Macaw. Axolotl was the first eliminated, and under the mask was WWE's Alexis Cabrera, known in the ring as Alexa Bliss. Then Fairy and Macaw faced off in the Battle Royale, and the former was eliminated and revealed to be actress Holly Robinson Peete.
Here, Cabrera opens up about her time on the show and how it helped her face a fear.
What made you say yes to doing The Masked Singer?
Alexa Bliss: I thought it would be an amazing opportunity. I've watched the show. I've had friends on the show. And it just looks like something that would be so fun to do. WWE was awesome in pitching me for the show.
For me, it was more so I wanted to get over my stage fright. I have a really bad stage fright of singing in front of people. I had this karaoke thing happen a long time ago in WWE. We had this Christmas party where all the talent got up and sang karaoke in front of everyone and it was a contest and the winners got gift cards. I went up to sing and I froze and just started looking around and shaking and sweating and I just sat the microphone down and I went and sat down and just was so embarrassed and I hadn't sung since.
So this was one of those things where it used to be something that was so fun and I don't know why, but my anxiety just got me. I wanted to do this to finally face my fear of singing in front of people because it was something I used to love to do in the shower, obviously, but I wanted to face my fear and prove to myself that I can do it and get over that hurdle.
And it seems like it was the perfect way to do it because of the costume.
Oh, yeah. I was still really nervous though. I was so, so nervous. I remember having a slight little anxiety situation before the show, before I went on, but my husband [singer Ryan Cabrera] was there and like, "You're going to do great. This is the fun part. You did all the hard work. You've already faced your fear. You sang in front of these people already. This is just the fun part. Have fun." You would think it was a little easier in the mask, but for me, the dancing was easier with the mask on than the singing was. But I just had fun with it. I was like, "You know what, I'm not a singer, I'm not trying to come up here and sound like a recording artist. I'm trying to just come out, have fun, face my fears, this is a personal goal, and just have fun with it, and really embrace the Axolotl spirit."
And it looked like you have fun. So talk about that costume. It was cute, but it looked like the head was probably the hardest part about moving in it, right?
It actually wasn't that bad. The team did an amazing job creating the head, [having it] supported in a harness that was wrapped around my back, so it really wasn't heavy at all. It was just hot, but we had little fans in there, too, which was nice. The size of it actually ended up working out really great because I didn't feel claustrophobic or anything. I felt like a giant Funko Pop. It was just really funny that the head was five feet wide and I'm five-foot, so it was as wide as I am tall and so I just thought that was kind of fun. But it wasn't heavy. It wasn't bad at all. The hardest part was the harness, but I was still able to move around and jump around and have fun and I just loved the work and the detail that was put into the costume. The team did an amazing, incredible job, so much attention to detail on the costumes. I never realized how much attention to detail goes into it. And it was so sparkly, so cute, just everything – I couldn't have imagined a better outfit, better experience. It was just so great.
What went into your song choice?
We kept trying different songs. It wasn't the song that I sounded best doing, but it was the song I was having the most fun with. It's one of my husband's favorite songs because Coyote Ugly is one of our favorite movies to watch together, so it was kind of a little "we love this movie so much so might as well do the song." The morning of the performance, we actually watched Coyote Ugly, and my husband goes, "Hey, you're like the main character. She has stage fright, and she gets over her stage fright by singing 'Can't Fight the Moonlight.'" So it was a fun little full circle moment. I was like, oh, yeah, I never really realized that. But it was more so because me and my husband really love the song. It's a little personal thing. Bring a little personal life into the show. So it was fun.
And I loved the mic drop at the end! Did you plan on doing that?
[Laughs] My husband told me, "You know what you should do? You should really do a mic drop at the end." So I had to clear it with everyone. I was like, "I'm not going to break this microphone, I'm not going to break a camera, I'm not going to break the floor." And they were like, "no, no, no, you're good, you're good," and so I was like, "What better way to end a performance of a non-singer than to drop the mic like I just killed it?"
Talk about the panelists' guesses. Jenny McCarthy figured you out, and you did the finger tap on the costume's head.
The fact that she guessed me right away, I was very surprised to even know she knew who I was, to be honest. I was so afraid I was going to be that person that people would be like, who? But it was really cool. And I didn't know Ken Jeong was such a big wrestling fan, which was really cool to hear as well. I was more shocked when she guessed me pretty immediately and her guesses were on point. I was more so surprised than anything.
Did you come into this expecting anyone else from the panel to figure you out?
I didn't think anyone would figure me out because no one really knows my voice except when I'm yelling at people in the ring and it's just such a disconnect between wrestling and WWE and having matches in a ring and singing as a salamander.
Did you have any songs in mind if you'd continued on?
Yeah, I had a whole list of songs if I'd moved on and obviously [if they were cleared]. Obviously my husband's friends with a bunch of musicians, so it was a lot of their songs that I thought could be fun. "Check Yes, Juliet" by We the Kings would have been one I would've pitched. "This Is Me" from The Greatest Showman because we love The Greatest Showman. Just fun little songs. But I'm really bummed I didn't make it onto the Battle Royale because I had a whole 'nother dance number ready for that "That Don't Impress Me Much" and I really think it would've won the crowd over.
What are you going to take away from the entire experience besides that you faced your fear?
Just to go out there and have fun. It was just so fun, and everyone was so amazing to work with. It was really nice to have something that Ryan and I could connect with on a creative level because we've never really had that in our relationship. We connect on so many levels and in so many things and have so many things in common, but we've never had something that we could do together creatively because he's a big painter, I can't paint. He loves to sing and play music, I can't play any instruments. I played the violin for four days. It was cool to have that. That's something we could do together, him playing the guitar, me singing, and just having those moments leading up to the performance. And just having fun. And the team was so incredible. Everyone that works on The Masked Singer was just so great to work with, and it was just all around an amazing experience.
What surprised you the most about being on The Masked Singer?
How difficult it is to sing and dance, oh my gosh! I can have like a 15, 20-minute match in the ring, which is very taxing on your body in energy. But singing and dancing, that's a whole 'nother beast. I remember, Amy, the vocal coach I was working with, had me doing jumping jacks and singing, and it was seriously one of the hardest things I've ever done and that really surprised me. And breathing. I also worked with Eric Vetro when I first got the call that I was doing The Masked Singer. I did a couple sessions with him, and he was so sweet. And working on your breathing, that's a whole other exercise that I didn't even think about.
So Eric helped me a lot with my breathing and using my voice and Amy helped me with my cardio when it comes to singing. I was very winded during the performance, which was really surprising because I wrestle for a living, and so it was so surprising how your body uses different things for different actions. I learned that I cannot sing and dance at the same time without getting winded, and I need to start working on that. [Laughs]
The Masked Singer, Wednesdays, 8/7c, FOX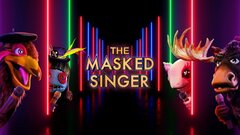 Powered by