Making 'The Last of Us' – How Production Designer Created Post-Apocalyptic U.S.
HBO's The Last of Us may have featured a somewhat epic journey from Boston all the way to Utah, but the series was all shot in Alberta, Canada. It took a lot of effort to transform over 180 locations in the mountainous and snowy province into several very different-looking states and set pieces from a 2013 PlayStation game.
Production designer John Paino worked closely with the VFX team to carefully recreate the settings from the game, as well as some wholly original locations decided by series creators Craig Mazin and Neil Druckkmann.
"Neil has made the Bible […] he has made the world, which was a great thing to have and to go back and to emulate there," Piano said. "And […], there are things that are whole-cloth just created that we work more with Craig. But certainly, it was a dynamic duo, both of them."
Paino is known for his previous HBO works, such as Sharp Objects and The Leftovers, and movies including Babylon Fields. He became attached to The Last of Us due to his relationship with the network and his appreciation of the game and "its beautiful concept art."
In an interview with TV Insider, Piano delves into selected sets from The Last of Us and breaks down the development and guesswork that produced each location to make them look like Boston, Wyoming, Utah, and more.
View this post on Instagram
In Episode 1, how did you turn downtown Calgary into Boston?
When when I went to Calgary, I thought that there'd be some used manufacturing areas, business parks, or things like that, that we could use as our background and build into that, you know, like other films like Children Of Men they shot in the old Docklands and things like that. And at least I'd have a base layer of desiccation to work with.
But there's nothing like that in Calgary, really.
And because South Boston, that particular area, is so unique with the kind of architecture and the brick and the closeness of the streets. All of that and because it's an icon in the game. Now we've got to build a wall, a giant wall. We figured we would have to build it, which is why we did, in an industrial park. And there were some buildings here that we could use as foundations. But basically all of the sides, the wall, it's all built, it's all from actual materials. The building fronts are scenery, the interiors are built on a stage somewhere else. And the wall is actually built, that's an actual concrete wall. Basically, except for the QZ, most of it is built, and the interiors are also built.
In Episode 3, there was a bit of a viral moment that kind of went on, where there was a "10 miles northwest of Boston" exposition shot. There were a lot of Boston folks saying the landscape in that shot is kind of not possible…
We very much looked at what could be possible. And knowing that we have an area we had settled on to make the QZ in. Between that and the VFX, sure. So I think people said, "Oh, the typography would be different." I think that it's possible that you could because I also know that right outside of where the QZ is set in South Boston, there are greenways along the highway that are very flat, so maybe the buildings would come up a bit sooner. But we also were working with where we had built the wall and things like that. And I think between the art department and the VFX Department; we got pretty close.
And I think that question was about the typography, not so much about, "oh, that wouldn't be there." We were very much sticklers. We have like 100 million fanboys and girls that we have to answer to. And we, we were very much competent in that. And yeah, maybe there's a toothpick out of place in there, but we did a pretty good job.
View this post on Instagram

How will you guys approach building upon the walled-in town of Jackson from Episode 6? Given the fact that Season 2 will take place a lot in that central area since it will be some time that passes?
It's hard to say. It would depend on where the show is based out of. I think that there's talk about it basing out of Vancouver, but it will totally depend on how much time you spend in that set. And you know, again, a lot of the interiors will probably be made on a stage, and you will just be shooting the outside. And you might go back there, you might, to do the exterior shots. Because the reason we went to Canmore, and that's the name of the town, is because it has the identical view down the main street that Jackson has, where you see the Rockies at the end of Main Street. And it's in the same kind of environment, and we have basically the same mountain range running through it. So for all those reasons exterior-wise, it might be good to go back, but we probably would make more of it on stages.
What were the logistics of shooting those scene-stealing giraffe moments at the Calgary Zoo during the finale?
We used the giraffes and their actual enclosure, what we did over a period of time was introduce blue screen panels so that Andrew in the VFX department could wipe those out and put in the open field. And then we cut to Joel and Ellie on a set, then when they run up the stairs, and they're there with the giraffes, that's a set. But it's partially, you know, the giraffe and its enclosure, it's a meld of both […] effects. And then when they run up the stairs, that's a set, and they get to the upper floor, that's a set, and it's looking out at a green screen field. And then VFX has dropped in all of Colorado there. And that's that ball field and the giraffes, but the actual giraffe, they're feeding a real giraffe at the gym.
Were there any challenges setting that up?
Absolutely. We slowly, over a period I think was a month, maybe a bit longer, would put our blue panels in the enclosure there, and if the giraffes were gonna freak out about that, there were three, it wouldn't have worked, we would have had to have taken them away. But I think slowly, over time, they got used to it.
And I know that Pedro [Pascal] and Bella [Ramsey] went there at least once, maybe twice, and fed the giraffe so that we would see the trainers work with them and work with the people who were putting in the scenery to get the giraffes acclimated to people being in there. And things in their enclosure [didn't upset them], so they would not go into that part of the enclosure [in which] we're filming.
Do you have a favorite location that you had to recreate from the game itself or from concept art?
Ah, it would be a toss. Well, from the game, it would probably be the mall. But also, the QZ just had so many–it was like archeology figuring out how people lived. Right there, you have a nutshell in the second episode of the whole machinations of the world of The Last of Us, so I'd have to say it was between the QZ and the mall is just like, date night on steroids, and we're just so much fun to make. Plus, there was an arcade, it just doesn't get any better.
The Last of Us, Season 1, Streaming now, HBO Max
nothing just pedro pascal and bella ramsey with a real giraffe on the set of the last of us pic.twitter.com/Kb4KCz7i3b

— grace dante (@misslefroy) March 13, 2023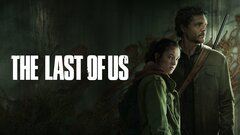 Powered by