'East New York' Sneak Peek: Debi Mazar Joins as Quinlan's Mom in Tense Reunion (VIDEO)
We're finally going to get to meet a character we've only thus far heard about on East New York, and based on TV Insider's exclusive sneak peek of the March 12 episode, we're going to enjoy seeing more of her.
Debi Mazar joins the cast in a recurring role as Officer Brandy Quinlan's (Olivia Luccardi) mother, Ann-Marie. (She'll appear in at least three episodes before the end of the season.) Quinlan has mentioned her mom, a recovering addict, in the past, and just in our clip alone, we get a sense of just how tense things are between the two women.
When Quinlan checks that her mom's still living in Boston, Ann-Marie realizes she never updated her daughter on her address. And after Officer Andre Bentley (Lavel Schley) walks in and the two meet, he leaves; Ann-Marie remarks, "he's handsome."
But Quinlan turns their conversation back to her mother's unexpected visit and asks what she plans to do while in town. "I just wanted to spend some time with you," Ann-Marie says. Quinlan reminds her that she works all day, so what will she do? There's a reason Quinlan's worried about her having free time in New York. Watch the sneak peek above for more from the mother and daughter's conversation.
In addition to Mazar's introduction, "There Goes the Neighborhood" will see the team racing to find the killer amidst a contentious gentrification battle in the neighborhood when a body is found at the construction site of a new high-end housing development.
Something tells us Quinlan would much rather deal with all that case entails than this family reunion. Still, Mazar and Luccardi on screen together is already a delight.
East New York, Sundays, 9/8c, CBS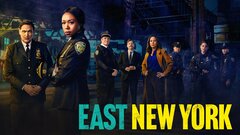 Powered by