Wendell Pierce Shares His Defining 'The Wire' Memory With Michael K. Williams
The series finale of HBO's original series The Wire aired on March 9, 2008, leaving a lasting legacy, the longevity of which will live on far after its creators, writers, crew, and cast. For good reason, The Wire is frequently ranked as one of the best series of all time. It examines Baltimore's institutions, including the illegal drug trade, the port system, the city government, education, and the news media. Its deep dive into urban life is gripping and heartbreaking.
These are the stories The Wire alum Wendell Pierce strives to tell. The actor has consistently sought roles that depict the timeless struggle and interpersonal relationships between the entities that help shape America. In The Wire, it was between police and criminals, and now in his upcoming role in The Good Wife spinoff Elsbeth, it will be between law enforcement and attorneys.
The busy actor recently came from performing Death of a Salesman for the first time on Broadway. The Arthur Miller classic features the dark underbelly of the American Dream and its elusive promise of equality and opportunity for all. "I would put The Wire on par with Death of a Salesman when it comes to storytelling," Pierce tells TV Insider. "It's the sort of stories that I want to tell, not only on television but as you see on Broadway on stage […] Those are the things that I find in common."
In our interview below, Pierce touches on possibly working with creator David Simon and co-star Dominic West, the legacy of The Wire, and how its storytelling is on par with some of the greatest productions of all time.
It's been 15 years since The Wire ended. Are there specific moments that still stick out to you?
Wendell Pierce: Yeah, there's always the "F scene" with Dominic and me. It was in the first season that kind of established that the show was going to be different. Like, oh, this is going to be a different show. And it's also one of the best. One of the highlights of my career. I can say career even because it was a classic acting exercise, an acting challenge we met. I really liked that.
And then for me, the other was the scene with Michael K. Williams as Omar, when Omar meets Bunk or they have a confrontation, and it really is something that is unique. I discovered in my research that most of the African American officers came from the very neighborhoods that were plagued disproportionately by crime. They became officers because that didn't reflect 99 percent of the people. And they were good, hard-working people who worked every day to try to improve their lives in the midst of being, you know, in poverty.
And [in this scene] meeting up with one person that has chosen a criminal lifestyle that is having an adverse effect on a neighborhood — but we're all neighbors, we all grew up together, and we're all from the same community — it's those two factions of the community that comes together. Embodied in Omar and Bunk in that one scene is the debate that our communities have to this day, which is how to stop the violence in our communities. Right? You know that we're hard-working, good people, and you're causing major, major trauma to the community. Stop the trauma, and let's find a way for a better way. And that message has resonated continually with the people who have seen the show, and they always come back and refer to it.
It sounds like you revisit the series often.
I revisit the series off and on. For a while, there was a marathon that happened, kind of like every year. And I'll revisit it when someone points out a particular episode that I don't remember or a storyline that I didn't remember. That's the thing about memory, how different it can be and how impactful it can be. One moment, you go back and realize that it was so impactful for that audience member that you didn't remember that you go back and you're reminded of it.
And that sort of that whole sense of memory is was at the height of what I was doing just recently on Broadway, Death of a Salesman, which is a play about the psychological impact it can have on a life over decades, one moment and one incident. […] I revisit material that delves into the personal psyche that way, that challenges me as an actor. So The Wire is on par with Death of a Salesman … It's the material that I find in common that challenges me as an actor. That is the thing that I tried to revisit most of all, and that's what the connection is between The Wire and Death of a Salesman.
Recently, David Simon did We Own This City, and you worked with him again after The Wire in Treme. Any plans to work with him again in the future?
I hope the door is always open to working with David Simon again. It is for me, I would love to work with him again. And from our relationship, just as colleagues and friends, he has that door open. The great thing about David is, over the years, with all of his shows, he has put together a group almost like a repertory company of actors. The same way that Orson Welles did with the Mercury Theatre… [he] had a repertory of coveted actors that he called on at different times on different projects. And I was fortunate to do that with The Wire and with Treme. And then you see other people do it from show to show.. like Khandi [Alexander] and Clark [Peters] did from The Corner to Treme.
In that same vein, are you hoping to work with Dominic West again?
I would love to work with Dominic, and I'm sure that he feels the same when a project comes up. I've recommended him for a couple of projects for him and me, and just because of timing, we weren't able to do it … Actually, recently I was talking about him for a project. But, you know, he's doing The Crown, so he's not available. And he and I were supposed to do Othello in England together, but I was unavailable. But keeping the theme of working with a company of actors you have a rapport with, he did it with Clarke Peters in England. And so I look forward to one day making that connection once again.
What are your interactions with The Wire fans now? There's an entirely new generation of kids whose parents put them on to it.
It's a really interesting thing, we weren't aware of it when we were doing it … We've really grown an audience and an appreciation that none of us could have predicted. And it's because the show is a classic, something that is so authentic and so human, and speaks to a truth in our humanity that it speaks when it [was being] produced, and also ongoing for years to come. And it's a disparate group of people from all different walks of life that find something tangible in this authenticity, you know, the more truthful you are. And the more specific you are, the more universal it becomes.
The thing that makes it classic is that it lasts across time, place, class and race, and gender; it touches everyone in a unique way. And that's the thing about The Wire, that long after we're gone, people will see the show and still have something to learn from it. And I really appreciate meeting fans. I hear from them, 'I'm finally sitting down with The Wire and sharing it with kids who are [now] old enough to watch.' To me, that's a real, real honor.
The Wire, Seasons 1-5, Streaming Now, HBO Max
This interview has been edited for length and clarity.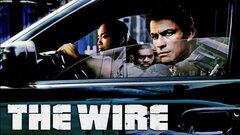 Powered by