Kerry Washington & Delroy Lindo Tell 'Very Human' Father-Daughter Story in 'UnPrisoned'
Get ready to feel some feelings over on Hulu as the streamer launches UnPrisoned, a new half-hour comedy from the platform's Onyx Collection, featuring Scandal's Kerry Washington and Da 5 Bloods' Delroy Lindo as an entertaining father-daughter duo.
Inspired by the life of creator and executive producer Tracy McMillan, Washington portrays Paige, a perfectionist relationship therapist, and single mom to son Finn (Faly Rakotohavana). The story kicks off with the day she's meant to pick up her father Edwin (Lindo) from prison where he's been confined for nearly two decades.
Eager to turn a new leaf upon his release, Edwin must do what he can to convince Paige that he's changed, but not all habits can be dropped so easily. Initially reluctant to take Edwin into her home and introduce him to her son, Paige begins to realize it's the only option in order for Edwin to continue down a positive path.
There are plenty of growing pains as Paige learns to accept her father now as opposed to the person he used to be. "We're trying to tell the story of a family that's dealing with a returning citizen, a family member who's formally incarcerated," Washington tells TV Insider. "It's really about trying to figure out how to exist as a family when this huge change unfolds."
As Paige and Finn accept Edwin into their lives, they're going through big changes of their own as she seeks out a larger living space with enough walls to allow everyone separate bedrooms rather than makeshift walls.
"When he is unprisoned and we find ourselves in each other's lives in a much more intimate way," Washington elaborates.
"There's another component in this work, and that is circumstances," Lindo chimes in. "How do we respond to the circumstances that we are confronted with?" Edwin faces certain circumstances early on in the season which point him in the direction of Paige despite her initial hesitation about taking him in. "There is the desire to want to make things right from the past, make things right with my daughter, learn about my grandson."
"The circumstances force us into a relationship with each other," Lindo continues. "And that happens all the way through the series." And while oftentimes, there is a seriousness to all matters at hand, comedy interweaves with the story in just the right way to make UnPrisoned an easy watch that will also spark thought.
This show is about what release after incarceration "looks like and feels like, and how it's challenging and how it's beautiful, and how it's a very human experience," Washington shares. "That it's really common when you think about the fact that there are 80 million Americans who are living with a criminal record."
Don't miss Paige and Edwin's journey in this new series, catch Kerry Washington and Delroy Lindo in UnPrisoned when it arrives on Hulu.
UnPrisoned, Series Premiere, Friday, March 10, Hulu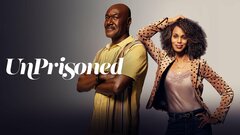 Powered by