'Pretty Baby: Brooke Shields' Showcases Star's Tumultuous Life as Child Actor (VIDEO)
Hulu's upcoming documentary Pretty Baby: Brooke Shields showcases a behind-the-scenes look at the life of actress Brooke Shields throughout her lengthy career, which started when she was a young girl.
The documentary holds "a mirror up to a society that objectifies women and girls," according to the streamer. Her story shows "the perils and triumphs of gaining agency in a hostile world."
Pretty Baby: Brooke Shields follows the actress through her unusual childhood and complex relationship with her mother and manager, Teri Shields. Shields' first gig began at only 11 months old, working as a child model before starring in Louis Malle's controversial film Pretty Baby at 12.
She became the face of the '80s, being featured in Calvin Klein jeans ads and leading roles in The Blue Lagoon and Endless Love, navigating the scrutiny of the media and American culture that wanted to use her for profit. "After defying stereotypes by going to college, Shields re-enters the entertainment industry as an adult, but it isn't until she begins to trust herself and her instincts that she was able to find her identity and voice," says Hulu.
The docuseries is expected to tackle various subjects throughout Shields' life, including the time she was sexually assaulted during her 20s. "I thought it was a work meeting," she told USA Today. "I had met this person before, and he was always nice to me."
Pretty Baby: Brooke Shields is produced by Matador Content and BedBy8 for ABC News Studios. The film marks the debut project from BedBy8, the newly formed production company by Ali Wentworth, George Stephanopoulos, and partner Alyssa Mastromonaco.
Lana Wilson directs the two-part docuseries, each with a runtime of 68 minutes.
Pretty Baby: Brooke Shields, Monday, April 3, 2023, Hulu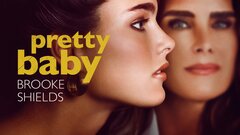 Powered by