Jen Psaki's MSNBC Show Set to Launch Next Month
Jen Psaki's previously announced MSNBC show finally has a launch date of March 19.
Inside with Jen Psaki will air weekly at noon on Sundays, and will stream the following day on Peacock. The show will see the former White House Press Secretary delve into major public policy issues in the news and conduct interviews with newsmakers.
There will also be a recurring segment called "Weekend Routine," where the host will be joined by lawmakers and other news figures showcasing their lives. Alongside the MSNBC show, Psaki is also developing two separate original streaming and social series, as well as a column for the network's daily political newsletter. She will also continue to make appearances across NBC News and MSNBC programming as a contributor.
Psaki initially joined NBC News and MSNBC in the Fall of 2022 after serving as President Biden's Press Secretary. At the time, the network said she would host a streaming show for Peacock at the beginning of 2023. But now it's been announced the show will be added to MSNBC's weekend line-up, which airs similarly formatted talk shows.
"Fact-based and thoughtful conversations about the big questions on the minds of people across the country have never been more important, and I'm thrilled to join the incredible MSNBC team," Psaki during the initial announcement. "My time in government, from the White House to the State Department, and years before that on national political campaigns will fuel the insight and perspective I bring to this next chapter. I can't wait to create a space on streaming where we break down the facts, get to the bottom of what's driving the issues and hopefully have some fun along the way."
Inside will air in place of MSNBC Reports. However, anchor Alex Witt will continue to lead the show on Saturdays from 12 pm to 2 pm and Sundays from 1 pm to 2 pm.
Psaki also joins alongside fellow Biden administration alumni on MSNBC's weekend lineup: Symone Sanders, who previously served as his spokesperson during the campaign. Sanders also joined the administration as the lead spokesperson for Vice President Kamala Harris before leaving to join MSNBC last May.
Inside with Jen Psaki, Series Premiere, Sunday, March 19, 2023, 12 pm – 1 pm, MSNBC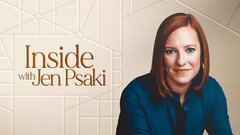 Powered by