'The Walking Dead's Danai Gurira Teases Richonne Reunion With Andrew Lincoln (PHOTO)
The Walking Dead might be over, but fans won't have to wait too long to be reunited with their favorite characters, as Danai Gurira's Michonne and Andrew Lincoln's Rick Grimes are set for a Richonne spin-off.
Gurira teased the upcoming series on New Year's Day as she took to Instagram to share a selection of behind-the-scenes photos (see below) with Lincoln and Walking Dead executive producer Scott Gimple.
"#Richonne spin-off. 2023. Pre-production is in full swing. We're getting there!" she wrote alongside the images.
Gimple previously teased the spin-off at San Diego Comic-Con last August, describing it as "an epic and insane love story" revolving around Michonne and Rick, two of The Walking Dead's most beloved characters.
View this post on Instagram
"These are two people that have been separated for a very long time. They've lived whole other existences, and they have to find themselves again, let alone each other," Gimple explained. "It's hopefully going to be mind-blowing."
Lincoln starred in the lead role of The Walking Dead since it debuted in 2010, while Gurira joined in the third season. Their characters would eventually become romantically involved, with Michonne becoming a mother-like figure to Rick's son, Carl. Lincoln left the series after Season 9, while Gurira departed after Season 10; however, both appeared in special guest roles in the eleventh and final season.
Speaking to Deadline about the series last October, Gurira said, "I co-created it with [Scott] Gimple and [Andrew] Lincoln, and we're having a great time. It's a lot of work though, a lot of work."
"Well it's an epic love story," she continued. "It's a love story between Rick and Michonne, as we know that they were together and got separated. So this is that story, that journey between the two of them with a very raging world around them."
Untitled Rick/Michonne Spinoff Series, 2023, AMC+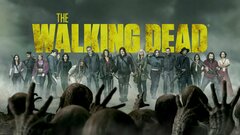 Powered by