Misha Collins Calls His 'Gotham Knights' Villain 'the Role of a Lifetime'
Supernatural is long gone — The CW's horror hit ended with a tear-jerking finale in 2020 — but its spirit lives on in…Wordle?
Yep, it's true. Besides hanging out whenever they can at fan conventions, Jensen Ackles, Jared Padalecki, Rob Benedict, Ruth Connell, Richard Speight Jr., and Misha Collins have found a way to carry on — and compete — through the online word-guessing game. "We text each other our Wordle results every day!" says Collins, who played trench coat-wearing angel Castiel on the show for 12 seasons.
He'll have a little less time for word games, though, now that he's playing Two-Face, one of Batman's most tragic villains, in the new DC Universe-set drama Gotham Knights. Ironically, the 48-year-old actor was of two minds about taking on the dual role of upstanding D.A. Harvey Dent and his turned-evil disfigured alter ego. Besides wondering if he was right for the job, Collins hesitated because he'd be filming in Atlanta, and his two children live in Southern California. He didn't waver for long: His excited 12-year-old son sealed the deal when he threatened not to talk to his dad if Collins didn't grab the iconic part.
Knights' producers were smitten by Collins from the start. "It was important for us to show Harvey's decency, and Misha's innate goodness radiates onscreen," co-creator and showrunner James Stoteraux says. "Misha's take on Two-Face is breathtaking."
There will be familiar tropes in this "modern iteration of the old Dr. Jekyll and Mr. Hyde story," Collins reflects, but the show also delves into Dent's troubled past before an acid attack destroys his face and his soul. "We'll witness his struggle against his own demons and see the cracks emerge. It's the role of a lifetime," he states.
The show focuses on life in Gotham City after the shocking murder of Bruce Wayne (Batman). The "Knights" now protecting the troubled town? An unlikely crew comprised of Wayne's adopted teen son and three kids of the Caped Crusader's enemies. (Oh, and they're all also accused of the hero's killing.) For good measure, they're joined by a new Robin — see below for more.
"The show is a sprawling mystery that unspools a byzantine conspiracy dating back to Gotham's founding," explains co-creator Natalie Abrams. "But beneath that is a coming-of-age story that explores the idea of legacy."
The Knights have a tough task, since more Batman villains are lurking, including the Court of Owls, the Mutant Gang, and Joe Chill, who killed Wayne's parents. "They're connected in a network that's a conspiracy of organized crime and, frankly, evil," warns Collins. Next to this, "Castiel is child's play," he jokes.
Gotham Knights, Series Premiere, Tuesday, March 14, 2023, 9/8c, The CW
This is an excerpt from TV Insider's inaugural issue. For more in-depth, reported coverage devoted to streaming shows from the publishers of TV Guide Magazine, pick up the March issue of the new monthly publication, currently on newsstands or purchase it online here. You can also subscribe to TV Insider Magazine here now.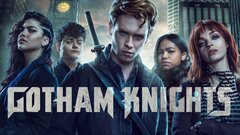 Powered by