Disney+ Cancels 'Big Shot' & 'The Mighty Ducks: Game Changers' After 2 Seasons
Disney+ has canceled two of its sports series, blowing the whistle on Big Shot and The Mighty Ducks: Game Changers.
Neither show will get a Season 3, according to Deadline. Big Shot starred John Stamos as Marvyn Korn, a basketball coach who loses a job as NCAA head coach and becomes a coach for an elite, all-girls private high school, quickly learning that he'll need to cultivate empathy and vulnerability for the post.
"By learning to connect with his players and his daughter, Marvyn starts to grow into the person he's always hoped to be," Disney+ added in a synopsis. "The girls learn to take themselves more seriously, finding their footing both on and off the court."
The Big Shot cast also included Jessalyn Gilsig, Sophia Mitri Schloss, Nell Verlaque, Tiana Le, Tisha Custodio, Cricket Wampler, Sara Echeagaray, and Yvette Nicole Brown.
The series — an ABC Signature production — was created by David E. Kelley, Dean Lorey and Brad Garrett, with Lorey serving as show-runner and Bill D'Elia as a fellow executive producer.
The Mighty Ducks: Game Changers continued the story of the big-screen Mighty Ducks film series, which grossed nearly $120 million worldwide. Emilio Estevez reprised his part as hockey coach Gordon Bombay in the series' first season, and Lauren Graham played Alex Morrow, who starts a new team with her son, Evan (Brady Noon), after he gets cut from the Ducks.
The show's second season "takes us to an intense hockey camp run by Colin Cole (Josh Duhamel), a charming yet hardcore former NHL player," Disney+ explained. "As our team tries to survive, they're faced with the question: Can you win summer?"
The Mighty Ducks: Game Changers, another ABC Signature production, also starred Maxwell Simkins, Swayam Bhatia, Luke Islam, Taegen Burns, De'Jon Watts, Naveen Paddock, with Josh Goldsmith and Cathy Yuspa as showrunners and executive producers.
Big Shot, Seasons 1-2, Streaming Now, Disney+
The Mighty Ducks: Game Changers, Seasons 1-2, Streaming Now, Disney+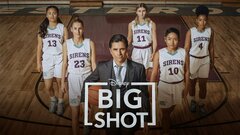 Powered by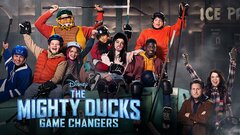 Powered by