Kiefer Sutherland Is Back With a Vengeance on TV in Paramount+'s 'Rabbit Hole'
Kiefer Sutherland is on the streets of New York City, running away from a policeman on a horse, and all is right with the world.
Casting the star as an enigmatic, tough character who is in control of situations — especially when he's in over his head — is a guaranteed formula for knockout television drama. And that's the elixir you'll get in Rabbit Hole, an eight-episode Paramount+ spy thriller. In it, the Emmy winner most famous for playing complicated, valiant agent Jack Bauer on the 2000s series 24 is John Weir, an elite master of deception who is handsomely compensated to orchestrate delicate jobs of corporate and political espionage with his team. Or, as Weir puts it, "I like making rich a–holes pay me to make other rich a–holes lose money."
Then it blows up in his face in one bad deal, leading to the kind of tension we're used to seeing Sutherland skillfully manage. After all, this is the TV hero who stopped international catastrophe around the clock in 24 and did what was best for the USA as Designated Survivor's unexpected commander-in-chief Tom Kirkman. If you need a can-do guy, rest assured that whoever Sutherland plays can do.
Granted, the roguish Weir is not the trustworthy figure we expect the 56-year-old actor to add to his résumé. As Sutherland tells TV Insider, "He's a rascal, like [Paul Newman's con man] in The Sting."
But we're holding out for a hero, darn it, and Weir does quickly find himself needing to save an unlikely victim — himself — when he's falsely accused of committing two high-profile murders. There's also Hailey Winton (Meta Golding), the woman he meets in a bar; their bond becomes a test for the lone-wolf Weir to see if he's able to set aside his reservations and trust anybody.
TV Insider sat down with Sutherland to find out more about Weir's predicament and his shadowy past, while also going down memory lane to talk about other roles and another passion — making music.
This show surprises you episode after episode. Was that part of the appeal for you?
Kiefer Sutherland: Yes. The movie that [showrunners John Requa and Glenn Ficarra] brought up that captured my imagination is Three Days of the Condor. An upper echelon [CIA analyst played by Robert Redford] goes out to get lunch, comes back and everybody's dead. And then he's being hunted. Rabbit Hole is such a well-rounded piece with humor, drama and the thriller aspect.
You're known for heroic roles. How does John Weir fit the mold?
At the start of it, he's kind of bad, but what makes it right is that he's doing it to [people who are] repulsive. Then, over time, he starts doing things because they are the right thing to do, as opposed to just simply being the right thing for him.
Flashbacks of John as a young boy are peppered throughout the series. Would you say his childhood molded the lone gun that he is?
His whole motto of living is "Travel light. Don't have anything that you can't run with." That really means people, a mortgage, a dog. It's like that great line at the opening of the Bon Jovi song "Santa Fe," "No man is an island." Weir's philosophy is he should be an island.
Yet when he randomly encounters Hailey, they connect, which I'm guessing surprises him.
Absolutely. You also start to understand that Weir says "Stay away," but that's not how he's behaving. He wants to be with her, so those are interesting things to play against.
You're also running through the city streets and having big fights here. How tough was that?
I'm older, so I probably used a little more ice and Tiger Balm than before, but I've missed it too. There's something exciting about doing those physical sequences. There were times when I'd look at [director of several episodes] Jon Cassar and go, "[The audience is] going to dig that one."
The early days of your career were very film-focused, with The Lost Boys, Stand by Me and others. Did you foresee how big television would be for you?
It was a different world then. There were three networks, and you had television shows like Family Ties, Cheers and M*A*S*H. There was a real demarcation between a film actor and a television actor. But the business model changed. We went from eight studios making 50 movies a year to three studios making 15 movies a year. Three TV channels grew to 400. It was just a card shuffle, right? I was lucky to be at the top of the deck.
What comes to mind when you hear these names: President Tom Kirkman from Designated Survivor.
I loved playing him. He was just a good, good guy in a horrible situation that was not by choice. It was put upon him. And that's really something special.
Franklin Delano Roosevelt, whom you played in 2022's The First Lady?
My favorite U.S. president. Not that he wasn't controversial, but he was one of those great educated men.
And Jack Bauer?
You know what words come to mind? "Thank you." I was just so grateful to have had that opportunity.
Rabbit Hole, Series Premiere, Sunday, March 26, Paramount+
This is an abbreviated version of the Rabbit Hole cover story for TV Insider's inaugural issue. For more in-depth, reported coverage devoted to streaming shows from the publishers of TV Guide Magazine, pick up the March issue of the new monthly publication, currently on newsstands or purchase it online here. You can also subscribe to TV Insider Magazine here now.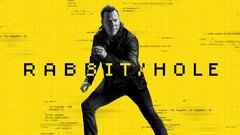 Powered by