Hilary Swank Previews Eileen's Intense Hostage Situation When 'Alaska Daily' Returns
The truth can set you free. It can also get you killed. "Some people get aggressive and violent when the truth is revealed. They want to keep living their illusions. Journalists have lost their lives because of [that]," says Hilary Swank, who plays Alaska Daily's gruff, exacting newspaper reporter Eileen Fitzgerald.
Art imitated life in the fall finale's cliffhanger ending, which cut to black as the newswoman, in The Daily Alaskan's offices after hours, faced a gunman angered by her investigations. The self-described "concerned citizen" had been stalking and openly threatening the former NYC hotshot since she started working in Anchorage. (He even sent her a bullet!)
In the drama's suspenseful return, Eileen's professional skills are all she has to help her survive the hostage situation. The reporter, always working, greets her assailant as she would any interviewee, cordially asking for his name. He doesn't provide it, but the intense confrontation that follows, Swank says, "takes investigative reporting to a different level: How do I break down this human being, understand his point of view and [determine] whether this is a real threat?" The high-stakes hour also brings a rescue bid from law-enforcement officers working to free her.
Swank confides that after living through the ordeal, her character will bury herself deeper in work for the second half of the twisty first season. Eileen and colleague Roz Friendly (Grace Dove), an Alaska native, pursue a new tip in the continuing story of murdered Indigenous woman Gloria Nanmac, linking her to a church they did not know she attended. "Digging into that a little bit further, they're like, 'Whoa, how did we miss this?'It takes them to places they didn't imagine [the story] was going," Swank says.
Unpredictable itself, the series has boldly tackled the topics of racism and sexism in media coverage, and Swank says its fine-tuned scripts have given her an increased appreciation for journalistic grit. "I would find it highly frustrating to [think], 'We did this and we're moving forward' and then it crumbles," she says. "When I read a story now by a respected journalist, I take it in differently. Getting to the truth, you [have to] turn every stone."
Focused on work, Eileen hasn't made personal ties in Anchorage, but that may change in the five remaining episodes — especially as her relationship with poet and pilot Jamie (Joe Tippett) clarifies. "Being held hostage reshapes you," Swank says. "Eileen's life is finding truth — but what is she avoiding?"
Alaska Daily, Thursday, March 2, 10/9c, ABC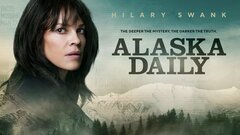 Powered by