'A Million Little Things' Boss on More After Finale: 'I Definitely Leave the Door Open to Something'
The final season of A Million Little Things may have just started, but we're already thinking about the end — and how we're hoping it might not be the last time we see the friend group we've grown to know and love the past five years. So does it leave off in such a way that a revival, spinoff, or follow-up movie would be possible?
"You never know," creator DJ Nash told TV Insider as he was gearing up to write the last scene of the series. "I definitely leave the door open to something. The way we leave the series would certainly allow for an opportunity to revisit, should we all find ourselves available."
Nash went on to share his love for the writers, cast, and crew (who stayed for the shorter final season versus taking a job with more episodes for more money). "I had a plan for what the journey of these characters would be, and every time I come into the room, I have that plan and I'm in awe of when the writers take that plan and make it better. It really is humbling and it's gratifying," he said.
It's also because of how he feels about the cast that, "the idea that this is goodbye is — it can't be," he continued. "I love this cast so much. I picked each of them individually. I fought for a lot of them that it was tough to get them the part but I knew they would be great. And they have just delivered not only on screen, but the humanity they bring off camera to the issues we're talking about, the care, the support of each other. A lot of us directed for the first time in this series."
But if this is truly goodbye, it will be going out "unbelievably optimistically," Nash shared. "This last scene … would be the message I would hope resonates for all of our fans who might be sad that the show is ending. There's a circle of life that we all go through that is really profound and I can't wait. It's going to cost quite a bit of money and take quite a bit of time. But when I pitched that last scene to the studio and the network, they were like, 'absolutely, we have to do that.'"
Could the series, which opened up with a funeral (Ron Livingston's Jon), end with a happy celebration? "Depending on how you define celebration, absolutely," Nash said. "I do think it's a celebration. It's a celebration of friendship."
Saying goodbye to the show is going to be hard for Nash. "It's so weird because I was the one who said, 'it's time.' Terrence [Coli] and I talked, and we said, 'it's time.' This isn't like a hospital show where you can have new interns come in and get a fresh crop of stories and trauma and conflict," he explained. "And yet I feel like I did senior year of college, which is I know I can't stay here, but I don't want to go."
Fortunately, we still have more stories before we have to bid adieu.
A Million Little Things, Wednesdays, 10/9c, ABC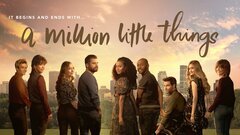 Powered by