'The Chase': Brad Rutter on Even Better Banter in Season 3, Plus 'Jeopardy!' Tips
Game shows continue their TV domination as the second half of The Chase Season 3 airs on ABC, and it's thanks in part to Jeopardy! champ and current Chaser Brad Rutter.
The knowledgeable competitor continues to display his intellectual prowess in the trivia game which puts three contestants up against a single skilled Chaser. Returning this past January, it's been a bit of a process getting to this point in the season as Rutter tells TV Insider, "we shot all these [episodes] back in March [2022]."
The process brought Rutter and his fellow Chasers into the studio "every day or every other day" over the course of three weeks. Returning alongside fellow Jeopardy! alum James Holzhauer, Rutter helped welcome three new chasers — Victoria Groce, Brandon Blackwell, and Buzzy Cohen — to the fray at the beginning of Season 3. "It's a well-oiled machine now," Rutter remarks of the dynamic between him and his fellow Chasers as well as host Sara Haines.
As to whether fans can expect a fourth season, Rutter says, "they're still looking for contestants, which is a good sign." So, while nothing is official quite yet, Rutter notes, "we're still eligible to come back."
When it comes to the draw of The Chase, Rutter says, "I think the whole concept of the show is really fun and it's something people latched onto where they can kind of see themselves up there staring us down from the bottom of that podium." He credits Haines for helping keep the energy level up between Chasers and competitors, sharing, "Sara makes it really fun too, right? I can't say enough about how well she's done with all of this. She really takes the time to get to know us Chasers and that's what leads to all the entertaining banter up there."
Rutter is no stranger to banter though as fans have come to know over the years during his time on Jeopardy!. Still a fan of the show which saw him win big bucks, Rutter acknowledges the recent success new competitors have had on Jeopardy!. "I can't remember when there have been more elite players in a span of time than there have been over the past year or two."
The recent Tournament of Champions, Rutter says, "has been really fun to watch." But that doesn't deter him from the idea of competing against these new elite players. "In terms of potentially playing any of those people, they're all really good. But I like my chances against anybody," Rutter says confidently.
As for tips he'd offer any future contestants, he shares, "it all depends on what your areas of expertise are. But in general, world capitals, presidents, and Shakespeare are the three big ones [to cover]. Those are all pretty study-able too. So, if you're gonna go on Jeopardy!, I would highly recommend familiarizing yourself with all three of those things."
Certainly a helpful hint from someone who knows best about what it means to be a Jeopardy! competitor. Don't miss Rutter in action on The Chase.
The Chase, Season 3, Thursdays, 10/9c, ABC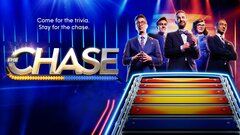 Powered by