'La Brea' Scores Early Season 3 Renewal at NBC
Prepare to spend more time in 10,000 BC (maybe, depending on what's ahead).
NBC has given an early Season 3 renewal to La Brea. The news comes on the same day as the drama's return with its midseason premiere, with back-to-back episodes (the eighth and ninth of the season).
The series follows the Harris family, along with others pulled into a mysterious and dangerous primeval land after a massive sinkhole opened in Los Angeles. They are left with no choice but to band together to survive. Among the revelations so far are that Gavin (Eoin Macken) not only grew up in 10,000 BC — spending time with his wife, Eve (Natalie Zea), and other survivors as a kid — but was also from the future.
The cast also includes Jon Seda, Nicholas Gonzalez, Chiké Okonkwo, Zyra Gorecki, Jack Martin, Veronica St. Clair, Rohan Mirchandaney, Lily Santiago, Josh McKenzie, Tonantzin Carmelo, and Michelle Vergara Moore.
"The back half of the season will entirely be set in 10,000 BC and many of the stories will be based around the challenges of living there — how do we survive in this inhospitable environment? How do we avoid the dangerous animals lurking around almost every corner? How do we function as a community? We have 13 series regulars, and all of them are going to have their own emotional and exciting character stories," creator and showrunner David Appelbaum told TV Insider.
"But the heart of the show will remain the Harris family. They have now been reunited, but their relationships will continually be challenged. And they also grapple with a question that's been at the heart of the series from the beginning… how are we going to get home?"
La Brea debuted as the #1 new show of the fall in the 18-49 demo and was also the #1 new drama of the 2021-2022 season in the 1849 demo. It also secured an early renewal last season, with the Season 2 pickup coming in November 2021, also ahead of Episode 8.
Appelbaum executive produces with Avi Nir, Alon Shtruzman, Peter Traugott, Rachel Kaplan, Chris Hollier, Adam Davidson, Bryan Wynbrandt, Steven Lilien, Ken Woodruff, and Arika Lisanne Mittman.
La Brea, Tuesdays, 9/8c, NBC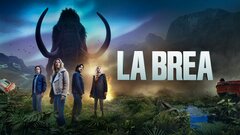 La Brea
where to stream
Powered by