'The Wonder Years' Turns 35! Danica McKellar Shares Her Winnie Cooper Audition Story (VIDEO)
The Wonder Years turns 35 today! The beloved family series premiered on January 31, 1988 right after Super Bowl XXII. In honor of the show's anniversary, Danica McKellar is sharing the story of how she got the role of Winnie Cooper as part of TV Insider's first edition of "My Audition Story."
Winnie Cooper was a beloved fixture of The Wonder Years. But did you know that McKellar's sister, Crystal McKellar, nearly played her? What started as a long day of auditioning for what they believed to be a one-episode role ended with Winnie becoming a series regular and an entirely new role being written for Crystal.
"My mother had a rule," McKellar says in the video above. "This was going to be a hobby only. No series regular auditions, and no auditions for feature films that would take us out of town." The Christmas at the Drive-In star says Winnie was "just supposed to be a guest role on the first episode."
"If they knew from the beginning that it was going to be a series regular role, I never would've auditioned for it," she adds with a grin. The McKellar sisters went through several rounds of auditions in one day, the group of hopefuls continuously dwindling in numbers until it was finally just Danica and Crystal left. They all broke for dinner, and then came back to read with Fred Savage, who played Kevin Arnold in the series.
"Ultimately, they chose me, but they said, 'We love Crystal so much, we're going to write a role for her.' And they did," McKellar says. "She played Becky Slater, the little blonde nemesis of Fred Savage for a while. They dated for a little while, then they were enemies. We got to do some scenes together, and it was amazing."
If mama Mahaila McKellar had a no-series-regulars rule, how did both of the sisters end up signing onto the series? Well, when McKellar booked Winnie, it was only for The Wonder Years pilot. If the show got picked up to series, McKellar explains, that's when they would write the role for Crystal. But it didn't take long for the show to realize they wanted Winnie to be a bigger player.
"Four days into shooting, the producers approached my mom and said, 'We think that Danica and Fred have this amazing chemistry. We want to offer her a series regular role. The network has approved it,'" she explains. "My mom was like, 'Oh, we don't do that.' I was like, 'Please, please please!'
"And by that point, we had already been on set and she saw that Joanne Savage and Jane Saviano and Marsha Hervey — the moms of the other kids on the show — were all so grounded, and they really cared about their kids being kids first. It wasn't going to be one of those Hollywood situations where the kids are being pushed in front of the camera when they're sick… If somebody wasn't feeling well, the mom pulled them."
The Wonder Years moms convinced Mahaila that the set was a "good environment" for her daughters, if they were going to be on a show longterm. But she still hired a good lawyer to help them get out of the series if/when they wanted for good measure. And the rest is TV history.
The show got its series order, but McKellar notes above that there was one big change after the Super Bowl pilot: "We didn't have Daniel Stern's voice as the narrator. It was someone else."
Get more details about the creation of The Wonder Years' debut season above.
The Wonder Years, Streaming Now, Hulu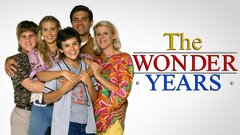 Powered by