'Married at First Sight': Gina's Family Gets to Know Clint in First Look (VIDEO)
Married at First Sight Season 16 continues in an exclusive first look from the latest episode, "Honeymoon Hiccups," as Clint gets to know his new bride Gina's family better.
In a sit-down meet-up with Gina's brother Marc and sister-in-law Isabel, Clint is getting grilled on his commitment and reasons he may consider breaking the marriage off. As the line of questioning begins in the sneak peek clip, above, Isabel dives in by wondering, "What could be a potential problem?"
She follows up the blunt prompt by adding, "I mean, you seem super chill, but what could be a problem during this adventure that would maybe make you shut down or create any type of problems where you'd be like… 'all right, this was nice, but bye.'"
Clint approaches the question with confidence responding, "If we're just hard-headed and we're not trying to discover each other's viewpoints, it's things like that," he says could cause issues. "We're gonna run up against some issues," he admits. "There's gonna be some conflict, [that's] just natural. But it's how you deal with it."
Ultimately, Clint says when it comes to these issues he and Gina will "just talk it out." The answer seems to satisfy as Isabel and Marc note the similarities between Gina and her new husband.
"Clint, he's, he seems great so far," Marc tells the cameras during a testimonial segment. "We'll know more as time goes on," he adds cautiously.
Meanwhile, beside him, Isabel chimes in, "I see one red flag. They're so similar. So, I don't know… They really gotta sit down and figure out what they can learn from each other and what the other one can do better than the other."
Will Clint pass the family test? Check out the full clip above, and don't miss the latest episode of Married at First Sight when it airs on Lifetime.
Married at First Sight, Season 16, Wednesdays, 8/7c, Lifetime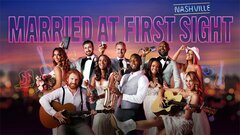 Powered by