An Expectant 'Good Doctor,' a New 'Bachelor,' 'Death by Fame' and 'Playboy Murders,' Apocalypse Now on TCM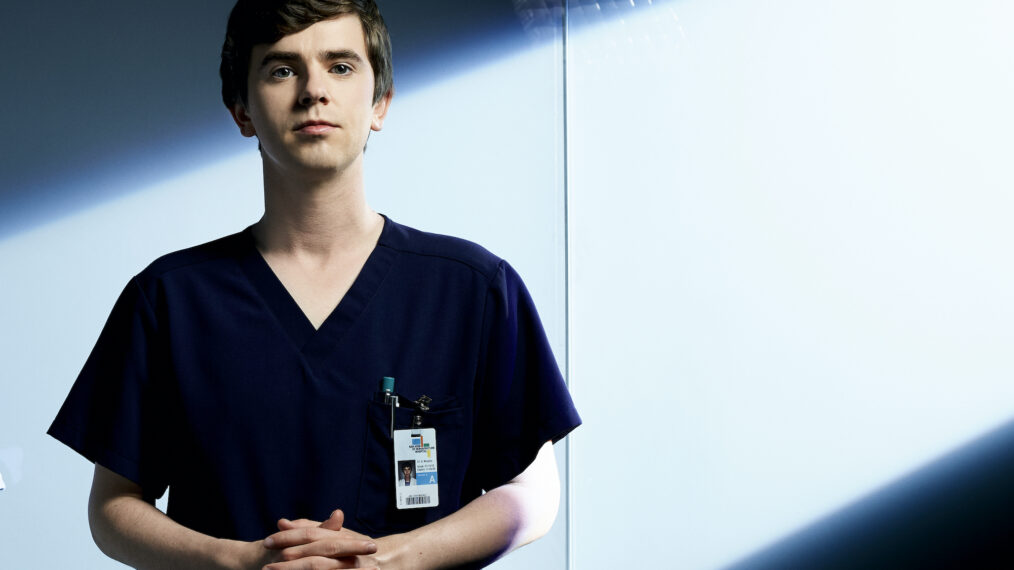 The Good Doctor
The curtain fell last week on NBC's New Amsterdam and Fox's The Resident, but there's still plenty of medical mayhem on TV. Witness the return from holiday hiatus of ABC's earnest hospital drama about autistic savant surgeon Dr. Shaun Murphy (Freddie Highmore), who barely gets to celebrate the news of wife Lea's (Paige Spara) surprise pregnancy before they have to contend with an unexpected complication. Much of the rest of the St. Bonaventure team keeps busy treating a teen with a difficult condition whose past surgeries could complicate his next one.
The Bachelor
There's an upside to publicly losing in love on The Bachelorette. Chances are always good that you can land your own season of The Bachelor. And so it goes for 26-year-old California tech exec Zach Shallcross, who heals from his breakup with Rachel Recchia by welcoming 30 new prospects to the Bachelor mansion. Will any of these be "the one?" The road to made-for-TV love is rarely trod without incident.
The Neighborhood
What's a retired mechanic to do with so much time on his hands? Calvin Butler (Cedric the Entertainer), urged by wife Tina (Tichina Arnold) to get out of the house, decides to take up the game of cornhole. But is it wise to enter a competitive tournament when you haven't even thrown your first bag?
Death by Fame
The true-crime channel explores the dark side of the Hollywood dream factory in a series about ill-fated wannabes. The premiere revisits the death of sex therapist Dr. Amie Harwick, better known as Drew Carey's ex-fiancé, found murdered the day after Valentine's Day in 2020. Followed by the series premiere of The Playboy Murders (10/9), recounting tragedies within Hugh Hefner's empire, starting with the 2009 dismemberment murder of Playboy hostess-model Jasmine Fiore, whose reality-star husband became the prime suspect when he was found heading for the Canadian border.
INSIDE MONDAY TV:
The Omega Man (8/7c, Turner Classic Movies): The success of HBO's The Last of Us suggests we can't get enough of apocalyptic drama. TCM complies with a night of end-of-the-world scenarios, starting with 1971's thriller starring Charlton Heston (remade with the story's original title, I Am Legend, starring Will Smith in 2007). Other films include 1959's downbeat On the Beach (10/9c), about U.S. sailors seeking safe harbor after a nuclear war, and 1975's Logan's Run (12:30 am/11:30c), set in a future when getting old is a death sentence.
All American (8/7c, The CW): One of the few long-running CW shows to survive the ax, recently renewed for a sixth season, the sports-oriented drama returns with a surprise birthday party that Billy (Taye Diggs) can't truly enjoy because of a looming decision. Followed by the return of college spinoff All American: Homecoming (9/8c), where Simone (Geffri Maya), Damon (Peyton Alex Smith) and Keisha (Netta Walker) are all dealing with setbacks.
Darcey & Stacey (8/7c, TLC): The twin stars of 90 Day Fiancé: Before the 90 Days are branching out—in more ways than one. Splitting time between their Connecticut and Miami digs, newly single Darcey looks for a fresh start while Stacey prepares for wedding planning with longtime love Florian Sukaj. Followed by the premiere of Extreme Sisters (9/8c), featuring unusually close sibling attachments, including that between 25-year-old triplets Hannah, Katherine and Nadia.
NCIS (9/8c, CBS): While the team searches for an undercover buddy of Torres (Wilmer Valderrama) who's gone missing, McGee (Sean Murray) prepares to go on a TV game show. These folks do know a thing or two about jeopardy, just saying.
No Straight Lines (10/9c, PBS): Independent Lens presents filmmaker Vivian Kleiman's colorful history of the emergence of LGBTQ cartoonists, including Alison Bechdel (Fun Home), promoting acceptance and social change through their comic books, graphic novels and newspaper strips.
Judy Justice (streaming on Amazon Freevee): Judge Judy Sheindlin barks out her popular brand of no-nonsense judgment in the winter premiere.