'The Wedding Veil Journey': Alison Sweeney Talks Tracy & Nick's Honeymoon Crashers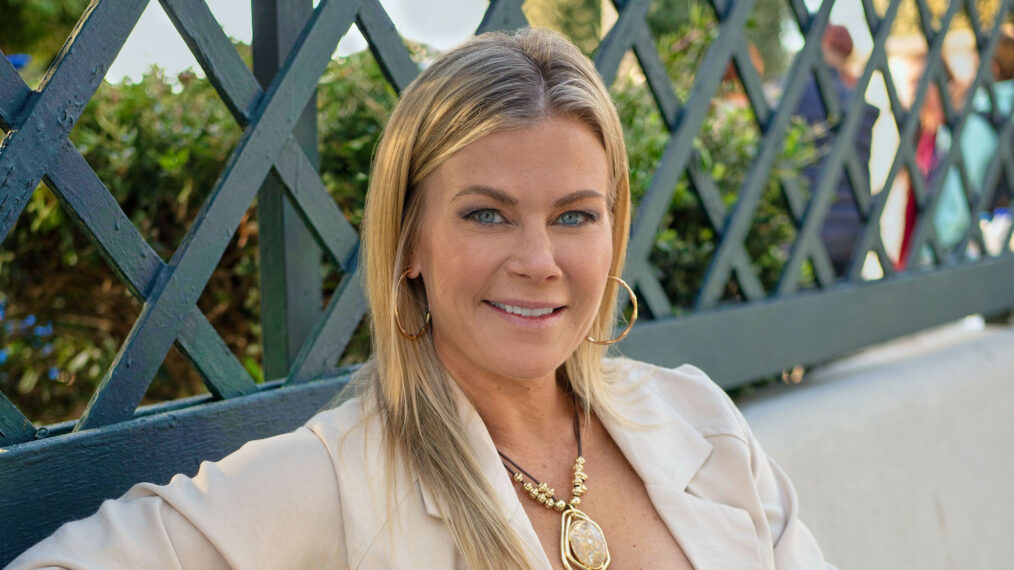 Just because the three women at the center of The Wedding Veil Trilogy movies are now married doesn't mean there isn't still magic to be found when each is in possession of the veil.
In the third film of the second trilogy, The Wedding Veil Journey, Tracy (Alison Sweeney) is the one once again in possession of it, this time as she and Nick (Victor Webster) finally go on their honeymoon — in Greece! Tracy's best friends Avery (Lacey Chabert) and Emma (Autumn Reeser), of course, have roles to play.
Sweeney previews the latest Wedding Veil movie and shares if we'll see any more Hallmark mystery movies (Chronicle Mysteries, Hannah Swenson Mysteries) from her.
Everything about this third movie in this trilogy was gorgeous. It made me really want to travel to Greece.
Alison Sweeney: Oh my gosh. I had never been to a Greek island before, and it just blew my mind. It was so beautiful.
How is Tracy and Nick's relationship going, especially with how busy they both are with work going into this film?
I really liked that story point because I think that Tracy and Nick are like a lot of couples: They have their routine, they have their schedules, they're busy working adults, and they find themselves in a rut. They're not making time for each other. They're kind of just going through the day-to-day motions, trying to leave little notes for each other, but without really mixing up their own schedule or making a change to their own plan. And I think that it's costing their relationship a little bit.
Yeah, those notes are so sweet, but at the same time, a little heartbreaking.
Exactly, yeah, that they're not making time and they're just acknowledging the relationship without really doing something about it. There was a great line when Tracy says, "I didn't choose to marry Post-It notes."
But they're finally getting that honeymoon. It only took a couple of years. How does that go?
Of course with these movies, it's always about the friendship with the three women. And so the advice she gets from these two happily married friends of hers is that she needs to take a honeymoon and she needs to take it seriously. I think Avery is spot on in noticing that, in their routine, in their schedule, they just haven't made time for each other. And this is the perfect way to encourage them both to do that.
There's been talk about Tracy and kids in these movies. How does that come up in this one?
After finding out that Avery was pregnant, Tracy sort of sticks to the — I think it's something that she's always just assumed about herself, that she's just not the mothering type and didn't really see herself having kids and never really questioned why or more than just the day-to-day of like, she's too busy. And so it's sort of a fun surprise when they meet a young boy who just really captures Tracy's heart. She just never saw herself as that kind of woman.
What role does the veil play in this film? Because it's always so fun to see how that factors in.
Yeah, I love how the veil just continues to work its magic throughout all these movies, even though they're already married. It finds its way into the hands of other people who need its magic, and even Tracy is forced to acknowledge that this veil has something to it.
You brought up the women's friendship, which I think is done so well over these films. It could kind of fall to the side sometimes because each character has to have their own film, but with each one, it's a nice through line. So what you enjoy most about that?
That's exactly it. What I love about these movies is that the friendship still is such a main part of it. Even though each movie is telling a different character's story separately, their role and influence in each other's lives are crucial, pivotal, and game changing and supportive of each other, the love they share for each other, the fact that they see each other so clearly… They are there for each other, unquestioningly, but they're also willing to tell each other the truth, you know? Especially when it comes to Tracy, someone who is sort of matter of fact about herself and she doesn't dig too deeply, she needs her friends to point out to her her shortcomings or when she's being a little stubborn. And so I love that. But they're all there for each other. They all support each other. And I think that's something that everyone, when they watch these movies, really relates to and feels about themselves and their own friendships or their sister or cousin or whoever it is in your life. You feel that way about people that you're close to.
And no matter where they are in the world, the other two will drop everything and go to that person if that person needs them.
Yeah. It was so funny, but with a wink, that her two best friends come and crash her honeymoon and Nick had such a great line, like, of course they did. In some ways my, my husband says the same thing about my best friend who I've been best friends with since I was a teenager. He always says that, like, "Oh, I know where I stand. I know you have your best friend and that's important too." And so I think it was really cool that Nick had that line of dialogue acknowledging their friendship.
Besides showing that friendship, what do you enjoy most about making these trilogies?
The travel. The locations were incredible. I love filming on Vancouver Island. It's so beautiful there and such a fun adventure to be out there and then to go to Bulgaria and to get to travel to Greece. It was just really such a cool thing to do and an opportunity that doesn't come around all the time.
What was your favorite scene to film from this movie?
I loved so much of it. All the scenes walking through the little town, the beautiful cobblestone streets with the white walls, the very Greece sort of locations were so spectacular. I guess my favorite would be the day that we filmed in Anthony Quinn Bay. It was this beautiful little bay and it's meant to be the view that you see from the hotel they're staying at when they have the scenes looking over the bar. Autumn and Lacey and I could not stand how spectacular this view was. It was just so beautiful, but it was kind of high above the actual beach. And so during a break in between the scenes, we took off our high heels and ran down this rickety stairwell to take pictures on the beach, which are the pictures now that everyone's using of the three of us together. It was just so funny. We were like, we've gotta do it. And we tear down these kind of precarious steps to get down there, and all the producers were like, "Wait, slow down. Let us help you." [Laughs] "Be careful!"
Are there any plans for another trilogy?
Well, certainly the three of us were coming up with our own ideas to pitch the network. We would love to make more of these movies, so we were having all sorts of brainstorming sessions about it while we were filming. I hope they do more, but of course, I'm just happy with what we've been able to accomplish.
What can you share about what you'd like to see in another trilogy?
I saw fans tweeting during the last movie — we do these live tweets during the premiere — and some were saying, there should be a Christmas episode or a vacation episode. And I was like, oh my gosh, that would be so fun, if we could do something like that, like Downton Abbey doing a Christmas movie.
Will we be getting any more mystery movies from you?
Yes, you will. I can't give away too much information, but I am working on something right now.
Can you say for which series?
I cannot. When I have permission, I will tell you. I'm so excited.
The Wedding Veil Journey, Movie Premiere, Saturday, January 21, 8/7c, Hallmark Channel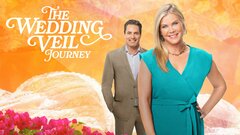 Powered by