First Look: Joseph Fiennes plays Michael Jackson in new comedy series
British network Sky Arts has released a first peek of Joseph Fiennes as Michael Jackson for its new comedy series Urban Myths. And it is something.
Fiennes channels the King of Pop in an episode that recounts a trip Jackson took with long-time pals Elizabeth Taylor and Marlon Brando after the September 11th attacks. The trio allegedly fled Manhattan in a rental car for an introspective road trip. Elizabeth Taylor is played by Stockard Channing and Marlon Brando by Brian Cox, with the late Carrie Fisher as diner burger flipper.
When Fiennes' eyebrow-raising casting was first announced, the series was criticized of "whitewashing" the role, by casting a white actor as a black man. No date has been set for the episode.
Take a look at the series of unbelievably bizarre celebrity stories.
The series premieres Jan. 19th and each of its 8 episodes offers a unique take on a bizarre urban myth. The strange tales include Bob Dylan and Dave (Stewart) hanging out in Crouch End; an 18-year-old Adolf Hitler attempting to get into art school; Cary Grant and Timothy Leary taking LSD; Salvador Dali summoning Alice Cooper to sit for him; Samuel Beckett driving Andre the Giant to school; Muhammad Ali saving a suicidal man; and the Sex Pistols and the story behind the infamous expletive-filled TV interview that announced the arrival of punk rock.
What do you think—"Bad" as in good, or "Bad" as in bad?
Urban Myths, Thursdays beginning Jan. 19, Sky Arts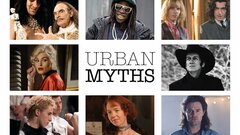 Powered by