Would Jensen Ackles Return for a 'Big Sky' Season 4?
[Warning: The below contains MAJOR spoilers for the Big Sky: Deadly Trails Season 3 finale, "That Old Feeling."]
Beau Arlen's (Jensen Ackles) future on Big Sky is left up in the air at the end of the Season 3 finale.
On the one hand, he could return to Houston with his ex-wife Carla (Angelique Cabral) and daughter Emily (Cree Cicchino) and face his ghosts there. On the other hand, as sheriff, he can stay where he is and maybe explore what he could have with Jenny (Katheryn Winnick). So would we see Ackles in a fourth season if ABC renewed the drama?
"I don't know. They haven't even picked up the show yet for Season 4, so I don't know if anybody's coming back for Season 4 yet. That's above my pay grade," Ackles tells TV Insider. "But if they do decide to pick up a Season 4 — which I would hope they would, I think the show's really great, and I think it's got a lot of story left to tell — I don't know. They had me for one season. They were probably like, well, let's just bring him in for one, and we'll see how it goes, and then we'll go from there. So they're waiting to hear what happened with the show, and then they'll probably talk to [showrunner] Elwood [Reid] and try to figure out what to do with the characters, those that are returning and those that they want to return."
Hopefully, Beau is a character they want back because there is still so much to explore with him, from his brother, who's only been mentioned to those ghosts he left behind in Houston. And Ackles agrees.
"There's a lot to unpack there with his backstory and what happened in Houston with his partner and how that affected his marriage and why he and Carla split up. There's certainly a lot to dive into," he says.
However, he also knows that they're constrained by time. "There's a lot of other characters to service on the show, and like many ensemble casts, maybe there's some parts of the story or some characters that you don't get to dive in as much as you'd like to with. I know I have questions, but we're kind of hamstrung by the whole 42-and-a-half-minute thing, and we gotta get those commercials in there," Ackles points out. "Maybe if they move it over to streaming, we'll have some extra time. We can tell some more story."
Considering how much we've enjoyed Beau since his introduction and his subsequent relationships with Jenny and Cassie (Kylie Bunbury), we hope we get a Season 4 — and Ackles returns for it.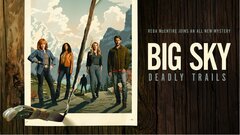 Big Sky
where to stream
Powered by