Marilu Henner to Guest Star on 'NCIS: Los Angeles' as Kilbride's Ex-Wife
Actress Marilu Henner is joining the NCIS universe as an upcoming guest star on NCIS: Los Angeles.
Henner will play Elizabeth, ex-wife of the rough-around-the-edges retired Navy Admiral Hollace Kilbride (Gerald McRaney), TVLine reports. The episode, set to air on Sunday, February 26, will see Elizabeth visiting her ex with hopes that Kilbride will reconnect with their son, to whom he hasn't spoken in years. The fast-moving procedural will take a beat and slow down for a few scenes to examine the relationship between the admiral and his ex, adding dimension to the gruff character.
No word yet on if she will be back for future episodes, but if the fans like the pairing, it's entirely possible Elizabeth could return.
Henner is no stranger to the small screen, having previously starred in the '80s hit Taxi, which earned her five Emmy nominations for her role as Elaine. She has also appeared on Brooklyn Nine-Nine, Evening Shade, and Aurora Teagarden Mysteries. The actress has also spoken about her Highly Superior Autobiographical Memory (HSAM), which is why she served as a co-producer on the CBS series Unforgettable about a cop who also possesses this skill.
Aside from acting, Henner certainly keeps busy. She tours the country with her one-woman show, Music & Memories with Marilu Henner. She also hosts a nationally syndicated radio show under her own name and has previously hosted and executive-produced her own talk shows including Marilu and Shape Up Your Life. Henner also competed on reality shows Celebrity Apprentice, Celebrity Apprentice All-Stars, and Dancing With the Stars.
Up next, Henner will appear in the Disney live-action Haunted Mansion movie coming out this summer, as well as the indie film Rock & Doris Try to Write a Movie.
NCIS: Los Angeles, Sundays, 10/9c, CBS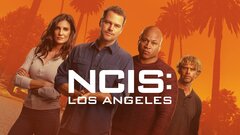 Powered by