'The Wire' Actor Al Brown Dies at 83
Al Brown, famous for his role in The Wire, has died at the age of 83. His daughter Jenny confirmed Brown's death. The actor passed away on Friday, January 14, in Las Vegas, after battling Alzheimer's.
Brown's character, Baltimore Police Commissioner Stanislaus "Stan" Valchek, appeared in all five seasons of The Wire, which aired from 2002-2008 on HBO.
He mostly appeared in the second season, which focused on the city's ports and the Greek mob. Brown's character was suspected of corruption and drug smuggling among dock workers at the ports. The season ended with Valchek making a dramatic arrest in the presence of the media. His character was portrayed as a proud Polish-American — a reoccurring gag throughout the season.
Jenny says her father loved to stop a talk to anyone who may have recognized him from the show, stating that he loved his job.
Brown appeared in Rescue Me, Law & Order: SVU, Commander in Chief, Maron, The Hustler, Forensic Files, and a 2004 TV movie titled Something the Lord Made, among others. He also took on film roles, appearing in The Replacements, Red Dragon, Liberty Heights, 12 Monkeys, Lay the Favorite, and more.
His daughter also confirmed that before he began acting in the '90s, he honorably served the Air Force at 29 years old and served two tours in Vietnam.
His children and extended family survive him.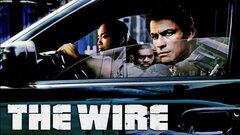 Powered by