Is 'Law & Order: SVU' About to Go There With Benson & Stabler? (VIDEO)
Oh. My. God.
Is there any other way to react to the Law & Order: SVU promo for the January 26 episode? For the conclusion of the trilogy that has taken Captain Olivia Benson (Mariska Hargitay) to the Bronx to and just saw her arrest the leader of BX9 after an attack on her was greenlit, she's getting help from her former partner, Detective Elliot Stabler (Christopher Meloni). But it's not going to be all professional. Watch the promo above for more.
This moment is coming after, in her final episode, Detective Amanda Rollins (Kelli Giddish), suggested that Benson find happiness (like she had) with Stabler. "I did feel like Stabler was my home, but he left me, Amanda, and I'm not over it. And the thing is is that I didn't have a right or a claim. He's somebody else's husband," Benson said, admitting she sometimes thought it would be easier if his wife Kathy hadn't died.
"With her gone, it's like there's nothing but possibility, which is paralyzing," Benson explained. If things don't go well, she'd lose their friendship. So is she ready to take that risk?
Meanwhile, over on Organized Crime, Stabler, while drunk, admitted he was in love with someone.
So are all the pieces in place for something to happen between the two after all these years? It's possible, and both shows have certainly been teasing it, with moments such as Stabler telling Benson he loved her during an intervention with his kids, The Letter it's best not to talk about, and many more.
Law & Order: SVU, Thursdays, 9/8c, NBC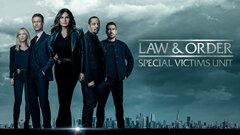 Powered by