'Impractical Jokers' Adds Paul Rudd, John Mayer & More to Season 10 Lineup (VIDEO)
Impractical Jokers is celebrating a major milestone as the hidden camera prank show featuring lifelong friends who compete to embarrass each other rings in its 10th season at truTV.
Set to premiere Thursday, February 9 on truTV and simulcast on TBS, Impractical Jokers welcomes an impressive lineup of guest stars for its big season. As viewers and fans know, the show focuses on Brian "Q" Quinn, James "Murr" Murray, and Sal Vulcano, longtime pals from Staten Island who participate in a series of challenges using hidden camera pranks and punishments.
Getting in on the fun for this landmark chapter are guests ranging from Grammy-winning artists such as John Mayer and Kesha to fellow performers Bret Michaels and Post Malone. Additionally, NBA All-Star Anthony Davis and actor Paul Rudd will join the show's guest star roster for competitions and challenges.
The premiere's simulcast on truTV and TBS is a rarity that isn't going unnoticed as it offers the opportunity for new viewers to experience the popular series which attracted 6.1 million fans during its most recent season. "This is a rare opportunity to grow the reach of this fan favorite series," said Julie Taylor, Chief of Content Strategy & Insights, U.S. Networks. "Giving truTV's Impractical Jokers dual-network reach on TBS underscores our commitment to this long-running franchise while growing visibility and awareness with our audience."
Along with unveiling the guest star lineup and some sweet illustrated key art, truTV has released a teaser offering viewers a first look at what's to come in this special season. Check out the trailer, above, and don't miss Impractical Jokers when it returns with new episodes this February on truTV and TBS.
Impractical Jokers, Season 10 premiere, Thursday, February 9, 10/9c, truTV and TBS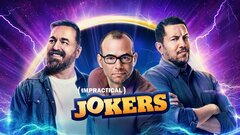 Powered by