Watch Ken Jeong & Freddie Prinze Jr. Get Roasted by Wrestler MJF at AEW Event (VIDEO)
The Masked Singer's Ken Jeong and She's All That star Freddie Prinze Jr. just wanted to enjoy a night at the wrestling on Wednesday, January 11, as they attended AEW Dynamite live at the Kia Forum in Los Angeles.
Instead, they found themselves part of the show as AEW World Champion MJF turned his attention to the celebrity guests. After addressing his on-screen AEW rival Bryan Danielson, the loudmouth Long Island native spotted the Hollywood stars seated at ringside.
"Speaking of irrelevant, apparently, we've got some celebrities in the house tonight," MJF told the live crowd during Wednesday's episode on TBS. "Ladies and gentlemen, Ken Jeong's here," he noted as the fans cheered for the former Community star.
Why @The_MJF!? Why!? #AEWDynamite pic.twitter.com/npmgApgUHv

— AEW on TV (@AEWonTV) January 12, 2023
"You may remember Ken from his role as Mr. Chow from The Hangover," the World Champion continued. "What was that, Ken, like, 20 years ago? But it's okay, right? We can still see your hit comedy series on ABC, Dr. Ken. Oh wait, that's right, we can't, because it got canceled!"
MJF was referencing the short-lived ABC sitcom that aired between 2015-2017, which was based on Jeong's experience as a physician before he became a stand-up comedian. The show was dropped after two seasons.
Jeong wasn't the only celebrity on the end of MJF's roast, though, as the Burberry scarf-wearing wrestler then turned his attention to Prinze Jr, who was also sitting in the front row.
"Freddie Prinze Jr's in the house tonight," he said as the crowd chanted, "Freddie!" MJF seemed baffled by the response, saying, "A Freddie chant, really?! A Freddie chant?! Okay."
MJF really cut a promo on Freddie Prinze Jr. 😂

(via @AEW) pic.twitter.com/jRa2Y6R630

— B/R Wrestling (@BRWrestling) January 12, 2023
"You may remember Freddie from She's All That?" MJF continued. "I know I don't, because I was born in 1996, and unlike all of you, I'm not a dinosaur! The only thing I remember Freddie from is when he played a supporting role to a CGI talking dog. So to me, Freddie, with all due respect, you ain't nothing more than a Scooby Dooby Douchebag!"
The two celebs, both long-time wrestling fans, played their parts perfectly as they reacted in disgust to MJF. Jeong, who currently serves as a judge on The Masked Singer, previously guest hosted an episode of WWE's Monday Night Raw, while Prinze Jr. once worked on WWE's creative team and is planning to launch his own wrestling company.
Disrespectful. https://t.co/5o4UFSzPFf

— Ken Jeong (@kenjeong) January 12, 2023
Jeong also shared the clip from Dynamite on his Twitter, simply writing, "Disrespectful."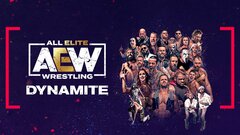 Powered by