'Law & Order: SVU': How's Benson Doing After Rollins' Exit? (RECAP)
Jumped In
Season 24 • Episode 10
[Warning: The below contains MAJOR spoilers for Law & Order: SVU Season 24 Episode 10 "Jumped In."]
The squad misses Detective Amanda Rollins (Kelli Giddish's last episode was the fall finale) as much as we do when SVU returns with its winter premiere. Sure, she's still alive — just off teaching — but it's not the same and it's impossible to ignore her desk, now empty (well, except for the chipmunk). In fact, the first episode after her exit is full of references to her.
In fact, that's where we find Captain Olivia Benson (Mariska Hargitay) and Sergeant Odafin "Fin" Tutuola (Ice-T) when the episode begins. "I've seen a lot of people come and go. I never thought she'd be one of them," he admits. Benson tries to see a silver lining: "Now that she's gone, McGrath is finally going to have to sign off on more bodies." But it's going to be rough when someone takes Rollins' desk. "I feel it, too, her absence," Fin tells his captain.
But about getting help at SVU… we can't help but feel like Chief McGrath (Terry Serpico) isn't going to be leaping to help them out there anytime soon. After all, when he wants Benson to go help clear cases at Bronx SVU, she brings up the fact that she's "one person down." But, he asks, "whose fault is that? You're the one who told Rollins to seek her truth or whatever." Ouch. But come on, did you expect anything else from him?
But then Benson's attacked by members of BX9 just outside her building. When Fin joins her at the scene after, he remarks, "not as pretty as Rollins, but I'll try my best with this emotional support thing." As Benson sees it, "between the two of you, we both know who's softer."
When Benson returns to work, she pauses to look at Rollins' empty desk, and McGrath brings up the detective's absence when the captain tells him she'll go to the Bronx — to hunt down a member of BX9 while helping to clear cases. "I understand that your squad room must feel very empty without Rollins," he says. "What's this have to do with Rollins?" she asks. According to McGrath, it's "displacement."
Benson, understandably, scoffs. "Wow, Chief, with all due respect, you've had, what, three therapy sessions. You're telling me that you think this is my redirecting unwanted feelings about missing my friend?" He doesn't think he's wrong. But as she reminds him, "I was with my son when a gang came after me with a machete." And after closing a case in the Bronx, Benson turns her focus to the reason she's there, with two episodes still to come in this trilogy.
Law & Order: SVU, Thursdays, 9/8c, NBC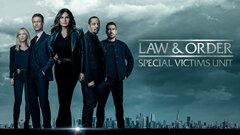 Powered by