'Sherlock': Would You Watch a Season 5? (POLL)
It's been five years since there's been new Sherlock, and considering no one has said it's been canceled yet, there's still hope for more. In fact, co-creator Steven Moffat recently addressed the series' future.
Moffat would "start writing tomorrow" if given the opportunity and Benedict Cumberbatch and Martin Freeman were to reprise their roles as Sherlock Holmes and Dr. John Watson, then quipped, "They're on to bigger and better things but, Martin and Benedict, please come back?" (via Deadline).
That, of course, leads to the simple question: Would you watch a Sherlock Season 5?
The fourth season saw the death of Watson's wife, Mary (Amanda Abbington), as well as the aftermath and the videos she'd left behind for the two men. The last episode, "The Final Problem," also included the reveal that Sherlock and Mycroft (co-creator Mark Gatiss) have a sister, Eurus (Sian Brooke) — foreshadowed throughout the series — whose intellectual capacities exceeded theirs and who was sent to live in a mental institution after she killed Redbeard, whom Sherlock thought was his dog but was really his very human friend. Eurus, having taken control of the maximum security black site she was in, forced Sherlock to face his emotions with a series of puzzles that put strangers and loved ones in danger. The series left off with Sherlock visiting Eurus, once again in a cell, and continuing to solve crimes with Watson.
And so it was easy to see how there would be more after that: Sherlock and Watson working together, with the former a bit different than he had been in seasons' past. There are, after all, always mysteries to solve and plenty to pull from Sir Arthur Conan Doyle's stories.
However, since Season 4 ended in January 2017 (in the UK), Una Stubbs, who played Sherlock's landlady Mrs. Hudson, died. It is nearly impossible to imagine Sherlock without her, and they definitely should not recast the role.
Then there's the matter of the fact that the series probably can't return to "consulting criminal" Jim Moriarty (Andrew Scott, so good in the role). He appeared following his death in the Season 2 finale, which featured two of the series' best scenes — Moriarty visiting Sherlock in his loft, and the two on the roof. He was last seen in flashbacks (and on video) in the Season 4 finale, proving that yes, there are ways to bring him back, but it wouldn't be the same.
And so we're asking in the poll below, would you watch another season of Sherlock?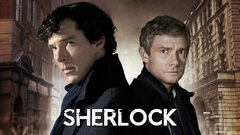 Powered by