'1899': Netflix Cancels Sci-Fi Drama After One Season
1899, the multilingual German period mystery-sci-fi thriller, will not be returning for Season 2, as Netflix has canceled the series after just one season.
Showrunners Jantje Friese and Baran bo Odar, who were also behind the hit Netflix time travel drama Dark, revealed the news on social media on Monday, January 2. "With a heavy heart we have to tell you that 1899 will not be renewed," Friese and bo Odar shared in a joint statement posted on Odar's Instagram account.
"We would have loved to finish this incredible journey with a 2nd and 3rd season as we did with Dark. But sometimes things don't turn out the way you planned. That's life," the statement continued. "We know this will disappoint millions of fans out there. But we want to thank you from the bottom of our hearts that you were a part of this wonderful adventure."
View this post on Instagram
1899, which premiered on November 17, 2022, followed a group of European emigrants traveling from Southampton, U.K., on a steamship to begin new lives in New York City. Like Dark before it, the series involved many sci-fi and mystery elements, with strange goings-on happening aboard the ship, turning the journey into a terrifying nightmare for its passengers.
The series starred Dark alum alongside Emily Beecham (The Pursuit of Love), Aneurin Barnard (Peaky Blinders), Miguel Bernardeau (Elite), Mathilde Ollivier (Overlord), Jonas Bloquet (Marie Antoinette), and many more.
"So sad," Pietschmann commented on bo Odar's Instagram post. "To all involved in making @netflix1899 this is not how it deserved to end thank you Bo and Jantje," added Barnard. Meanwhile, Beecham simply shared a crying face emoji.
1899 is the most expensive German television series of all time, with a budget of at least €60 million ($62.2 million), with Netflix investing €48 million in the project. Filming took place on a newly-built virtual production stage operated by Friese and bo Odar's sister company Dark Bay at Studio Babelsberg.
Friese and bo Odar served as executive producers on the series, with Friese writing and bo Odar directing.
1899, Season 1, Streaming, Netflix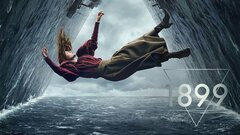 1899
where to stream
Powered by