Ask Matt: 'Designated Survivor', 'Bates Motel', 'Pure Genius', 'Celebrity Apprentice' and 'The Exorcist'
Welcome to the weekly Q&A with TV critic (also known to some TV fans as their "TV therapist") Matt Roush, who'll address whatever you love, loathe, are confused or frustrated or thrilled by in today's vast TV landscape. One caution: This is a spoiler-free zone, so we won't be addressing upcoming storylines here unless it's already common knowledge. Please send your questions and comments to [email protected] (or use the form at the end of the column) and follow me on Twitter. Look for upcoming Ask Matt columns on most Tuesdays and Fridays.
Question: It's bad enough that the networks are doing the "winter finale" thing these days with shows that we've enjoyed through the fall. But what's up with Designated Survivor not returning with new episodes until some time in March? – Diane
Matt Roush: That long hiatus surprised me, too. But it's damned if you do, damned if you don't when it comes to scheduling these highly serialized dramas over an entire season. If ABC brought back Designated Survivor right after the New Year, it would either have to vamp at some point with repeats—which are death to this kind of show—or run out of episodes in early spring. By delaying its return, the network ensures an interrupted run to the end of the season in May. But such a long break could seriously impair its dramatic momentum, which makes this a calculated risk. Although I imagine most fans will tune back in to see who took that bullet from the cliffhanger.
---
Is There a February Drought of New TV?
Question: Why do cable shows that air in the second half of the TV season (The Americans, Bates Motel, Game of Thrones, etc.) start in March/April and not February? It seems like there would be more viewers available in the winter than when the weather improves, and they could air during February sweeps if sweeps is a factor. – Chris
Matt Roush: There's plenty of TV to go around anymore—have you seen the number of shows bowing in January?—and with most networks now operating on a year-round basis, premieres tend to be staggered. (For the record, A&E just announced that the final season Bates Motel was getting its earliest start ever, on Feb. 20.) And it's not like February is a wasteland. Among the more notable premieres: FX's Legion, HBO's Big Little Lies, CBS's Superior Donuts, Training Day and Doubt; the Good Wife spinoff The Good Fight on CBS All Access, Netflix's Santa Clarita Diet, new seasons of Girls, The Missing, Humans, Major Crimes, to name just a few. But from where I sit, given how many shows are starting in the first weeks of the new year, we'll still be watching plenty of them through February, and not having to contend with as big a batch of premieres in February might be something of a relief. The argument that we watch more TV in the winter months is a fair one, but stunting for sweeps is pretty much a thing of the past, except for Sundays, which are Event Central in February with the Super Bowl, Grammys and Oscars.
---
The Early End of Pure Genius
Question: Has Pure Genius really been canceled? Why, Matt, why? It's such a great show, bringing together medicine and technology! I find myself saying, "Wow, what a cool idea" and tearing up during every episode! Please bring it back! — Christen
Matt Roush: Such things are beyond my power, I'm afraid. Pure Genius will still be around through January, but it wasn't picked up for a full season beyond the initial order of 13. Which pretty much amounts to a cancellation, though that won't be confirmed until CBS's new lineup is announced in May. I agree the premise was intriguing, but the execution (and casting) left me pretty cold, and it didn't pop on Thursdays as the network had hoped. But no show goes away without some fans mourning it, so I'm sorry for your loss.
---
Arnold: You're Tired!
Question: I know that Arnold Schwarzenegger volunteered to be the new boss on Celebrity Apprentice, but I am wondering who the stupid people are that agreed to it. He is beyond awful! He lacks personality and authority. I also can't believe he actually asked a contestant to call him Governor. What an egotist! — Blanche
Matt Roush: And that last observation is different from what came before how? In just about every way imaginable, keeping this already-faded franchise alive was a terrible idea. It has done the unimaginable, making me root for The Bachelor to succeed by comparison. I won't be watching either.
---
The Devil Made Us Like It
Question: Please tell me Fox will pick up The Exorcist. It is, by far, THE BEST horror show on TV. Outshines American Horror Story. – Olivia
Matt Roush: And it was a hell (pardon the expression) of a lot more enjoyable and suspenseful than the most recent half-season of The Walking Dead. A pity it was buried on Fridays, and never achieved critical mass. It has to be considered a long shot for renewal, but hey, The CW just gave Crazy Ex-Girlfriend a third season, so miracles happen! If it doesn't return, special kudos to the producers for not leaving us hanging about the fate of the Rance family.
---
Question: I just finished presumably the series finale of Fox's masterpiece The Exorcist. If there ever was a more effective show in this horror genre, I haven't watched it yet. Am I wrong to suggest that if The Exorcist aired on cable or another platform, it would be considered a hit or at least a modest success? — Fred
Matt Roush: I've been arguing lately that if shows like this—or, taking a summer example, the hilarious and oh-so-original BrainDead—had aired on a platform like Netflix instead of a broadcast network, it might have been instantly embraced as the next cool thing (as too many Netflix shows tend to be) and would have had a longer life. An Exorcist reboot might have been a hard sell on any platform, but exceeding expectations on a broadcast network still isn't enough these days to earn a show like this the buzz it deserves.
That's all for now. Thanks as always for reading, and look for more questions and answers on Friday. I can't do this without your participation, so please keep sending questions and comments about TV to [email protected] or shoot me a line on Twitter (@TVGMMattRoush), and you can also submit questions via the handy form below.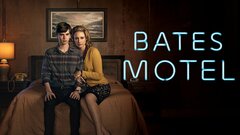 Powered by