Stephen 'tWitch' Boss Dies: 'Ellen' DJ, 'SYTYCD' Alum Was 40
Stephen "tWitch" Boss has died at the age of 40. The longtime DJ on The Ellen DeGeneres Show and So You Think You Can Dance alum/judge died by suicide.
The dancer's wife, fellow So You Think You Can Dance alum Allison Holker Boss, confirmed his death in a statement to People. They share three young children. "It is with the heaviest of hearts that I have to share my husband Stephen has left us," she said. "Stephen lit up every room he stepped into. He valued family, friends, and community above all else and leading with love and light was everything to him. He was the backbone of our family, the best husband and father, and an inspiration to his fans."
"To say he left a legacy would be an understatement, and his positive impact will continue to be felt," she continued. "I am certain there won't be a day that goes by that we won't honor his memory. We ask for privacy during this difficult time for myself and especially for our three children. Stephen, we love you, we miss you, and I will always save the last dance for you."
According to the Los Angeles County Department of Medical Examiner, Boss's death is still pending additional investigation.
View this post on Instagram
Boss made his TV industry debut competing on So You Think You Can Dance Season 4 in 2008, finishing in second place behind Joshua Allen. Holker finished in 8th place in Season 2. Both of the dancers competed as all-stars in Season 7 in 2010 and began dating shortly after sharing a dance at that season's wrap party. They got married in 2013 on SYTYCD creator and judge Nigel Lythgoe's winery.
The star started DJing on The Ellen DeGeneres Show in 2014 and stayed through the series' end in 2022. DeGeneres bumped him up to executive producer in 2020. The 40-year-old was beloved for his upbeat and sweet demeanor on the daytime talk show and his artistry on and off screen. And on social media, Boss and Holker were popular for their joyful dance videos, which frequently featured sweet clips of their three children, Weslie, 13, Maddox, 6, and Zaia, 2.
He maintained a positive outlook on Twitter as well. One of his last tweets was a hopeful message that read, "One of my favorite parts of flying on a cloudy day is when the plane breaks through the clouds to reveal the beautiful day that's just beyond the cloud ceiling. A great reminder for life on the vastness of the idea that 'everything will be alright.' And if we can just know, have faith that just beyond whatever clouds are on our perceived ceiling, are clear skies full of potential possibilities and promises."
Just a thought pic.twitter.com/wawGZMm3Xu

— Stephen tWitch Boss (@official_tWitch) October 14, 2022
Boss had a busy work year in 2022, appearing in a slew of TV shows. He was brought on as a judge for So You Think You Can Dance Season 17 in the summer in addition to hosting The Real Dirty Dancing on FOX. He and Holker starred as a mother and father in The Hip-Hop Nutcracker, which premiered November 25 on Disney+. He also was the announcer on Ellen's Game of Games from 2017 to 2021 and co-hosted Disney's Fairy Tale Weddings with Holker from 2017 to 2020.
The star told TV Insider in August 2022 that he was intrigued by the idea of hosting his own daytime talk show after falling in love with the format on Ellen. "We'll see. I don't like to jinx things," he teased with a smile, "but we're on the same page."
Boss was a dancer in films like Blades of Glory, Hairspray, multiple Step Up movies, and Magic Mike XXL. Other credits include tWitch, Please… Help Me Dance!, Modern Family, Ghostbusters (2016), Love, Famous In Love, East Los High, Bones, Touch, and more.
Fans and friends are flooding Twitter with videos of Boss's memorable moments on SYTYCD and beyond. Ellen producer Andy Lassner also reacted to the heartbreaking news, tweeting, "Rest, my friend." In many of the tributes, people are sharing how good watching tWitch dance made them feel. His impact on the dance world looms large. See more touching tributes to the star below.
Rest, my friend. pic.twitter.com/BfRhkObAkO

— andy lassner (@andylassner) December 14, 2022
RIP Twitch 💔

— banessa (@yyzvee) December 14, 2022
I can't tell you how many times I've rewatched this performance when it first aired by Twitch and Alex Wong on SYTYCD. One of the best things that I've ever seen. RIP Twitch 💔 pic.twitter.com/84fj58PFr0

— Ashtynn (@ThatsSoAshtynn) December 14, 2022
He always exuded joy. You never know what a person is dealing with. Check in on your people. ❤️ RIP Twitch pic.twitter.com/dvbdaJUDQ3

— Steven Canals (@StevenCanals) December 14, 2022
I loved the art he created through movement sooo much. RIP Twitch. :(pic.twitter.com/xngTCcJlV6

— gabrielle alexa noel 💘 (@gabalexa) December 14, 2022
12 yrs ago Twitch gave us this pop culture moment. today shouldn't have been this last dance.
RIP Twitch ❤️‍🩹 Prays for his Son + family pic.twitter.com/SYK5OaBrQl

— Lady Dia (@DamnnItsDianaa) December 14, 2022
The amount of joy this video brought to my life. I would watch it over and over and over again. I wish he could have been given the same. Devastating. RIP Twitch. pic.twitter.com/POh2heS1Zt

— KayyDott (@KayyMickey) December 14, 2022
You'll be missed by brother. You'll be missed. Thanks for always laughing and smiling with me.

Stephen "tWitch" gone way too soon 💔💔💔. RIP tWitch. pic.twitter.com/rxthGUTPLZ

— Emmanuel Acho (@EmmanuelAcho) December 14, 2022
RIP Twitch. Only 40 years old.
Here's a vid of him dancing with his little king. 😞 pic.twitter.com/vx4FDoQzfa

— ωєєкℓу иєωѕι¢αℓ (@WeeklyNewsical) December 14, 2022
RIP Twitch. Only 40 years old.
Here's a vid of him dancing with his little king. 😞 pic.twitter.com/vx4FDoQzfa

— ωєєкℓу иєωѕι¢αℓ (@WeeklyNewsical) December 14, 2022
Just earlier this year…man. I'll never forget how watching him dance made me feel. RIP tWitch. A true talent. 🕊 pic.twitter.com/xhrOKDZceU

— JAYLION (@yojaylion) December 14, 2022
Rip Twitch, my favorite "So You Think You Can Dance" contestant pic.twitter.com/OxEtS1DcpH

— Chauce Da Elgato Partner ⚡️🌩 (@ChauceNoSauce) December 14, 2022
Before this I never knew black men could do contemporary.
This is one of the key moments that inspired me to become a dancer.
Rest in peace Twitch. Your legacy will live on forever. 🕊️ pic.twitter.com/fdZISZQ7j2

— Random Acts of Boldness (@tweetsbybran) December 14, 2022
If you are affected by any of the issues discussed in this article, are worried about a friend or loved one, or would like emotional support, call the National Suicide Prevention Lifeline's toll-free number: 1-800-273-TALK (8255).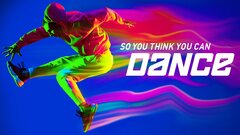 Powered by