'The Cleaning Lady': Naveen Andrews Warns of 'Appalling' Anarchy in Season 2 Finale (VIDEO)
Robert Kamdar's nefarious deeds come to a head for everyone in The Cleaning Lady Season 2 finale, a two-hour event airing Monday, December 12 at 8/7c on FOX. Naveen Andrews' latest villain has been terrorizing Thony (Elodie Young) all season long, threatening her son, her budding relationship with Arman (Adan Canto), her partnership with Garrett (Oliver Hudson) and the FBI, and basically everyone in the series. Andrews came by the TV Insider office to tease the chaos that's to come in The Cleaning Lady Season 2 finale.
In the two-part finale, titled "Sanctuary / At Long Last," Thony is confronted by Garrett about the truth behind Maya's (Chelsea Frei) death as Nadia (Eva De Dominici) tries to stay in Kamdar's good graces. Meanwhile, Fiona (Martha Millan) helps Luca (Sebastien and Valentino LaSalle) celebrate his birthday. After Thony, Arman, and Garrett work together to come up with a plan to take down Kamdar once and for all, Thony decides to take things into her own hands to ensure the safety of Fiona and Luca.
"The disruptive, anarchic element that Robert is, how he has a deleterious effect on the other characters in their lives, reaches such a pitch where it becomes intolerable," Andrews says of the finale in the video interview, above. "It's so appalling that something has to be done, and it raises the stakes for all the characters in the show — everyone."
Andrews is no stranger to playing morally gray characters. He most recently played Sunny Balwani in Hulu's The Dropout, who operated Theranos with Elizabeth Holmes under false pretenses about the medical technology they were developing. He was Disney villain Jafar in Once Upon a Time in Wonderland, and of course, there was Andrews' Emmy-nominated turn as Sayid Jarrah in Lost, whose morals frequently came into question in comparison to other characters. While playing Kamdar required acting chops he's used before, The Cleaning Lady marked a first for the Brit.
"I've never done a show that was strictly about immigrants, and I'm the child of immigrants," Andrews tells us. "I don't know whether this was coincidence or not, but I was trying to get my son to read Cormac McCarthy — Blood Meridian, in particular. He's learning a lot about American history because he's American. He was brought up in California. The idea of violence being a part of the American soul — it's in its culture, it's in its history — I felt especially in Season 2, that also informs The Cleaning Lady. These are immigrants, but they find themselves in situations where they have to operate outside of the law."
Whether Kamdar ends the season dead or alive, Andrews promises the season finale is going to be a whirlwind. Should Kamdar live, Andrews implies he'd be delighted to work with this cast again in a possible Season 3 (as of time of publication, The Cleaning Lady has not yet been renewed).
"I loved working with that cast. That was one of the reasons why I wanted to do it, because of the actors," Andrews shares. "They give it an emotional force, a punch in the stomach that I don't often see in that medium. I remember seeing the first season, in Episode 5 where you think Fiona is going to be deported, played by [Millan], I think it had [The Rolling Stones'] 'Moonlight Mile' playing over the top. I thought that's brilliant. It's so moving, you moved in spite of yourself. It had that effect on me."
Learn why Kamdar being an "educated criminal" poses such a large threat, plus what it takes to play these morally gray characters in the full video interview, above.
The Cleaning Lady, Two-Part Season 2 Finale, Monday, December 12, 8/7c, FOX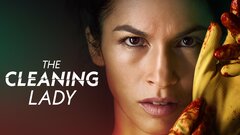 Powered by