'Bones': Brennan's Surprise Birthday Party Reveals Two Twists
Warning: This post contains major spoilers for the January 10 episode of Bones. Do not read ahead unless you've watched the hour.
Bones' Brennan (Emily Deschanel) was able to surprise her friends at her own birthday party. After seemingly undermining Angela (Michaela Conlin) and Daisy's (Carla Gallo) recent accomplishments, she shocked them (and her friends) by revealing her shindig was really a celebration for all three women.
Though Brennan has gone through an extraordinary amount of personal growth in the show's 12 seasons—including marrying Booth (David Boreanaz) and having two children—the decision to showcase her going this extra step for her friends was an intentional move by the writers. "What we wanted to do was make what Brennan will go through this season so much more impactful by showing the progress she's made," Bones executive producer Michael Peterson says. "Showing that she is this different person, she's more humbled. She has a better sense of humor about this kind of stuff."
RELATED: Bones Boss Previews the Final Season's Resolution and Reveals Returning Favorites
However, that growth could have its own consequences. "There was something Sweets said years ago: 'Brennan puts up all these walls, and be careful because if she starts to let down these walls. If something slips through and hits her, it's going to have very serious impact,'" Peterson recalls. "That's really what we were showing: she has taken down these walls, but it also makes her more vulnerable. It's a double-edged sword there. Now, as her emotions are more on the surface, what's going to happen if something dire does occur?"
And Brennan's world could be thrown into chaos, as her father Max (Ryan O'Neal) is sick. (Viewers learned that when his granddaughter returned his hospital bracelet; as of now, Brennan doesn't know.) "That's going to be a big part of Brennan's emotional journey," Peterson teases. "When we met her, way back in Season 1, she was looking for her family—she didn't know what happened with Max and her mother [who went missing when she was a teen]. Obviously along the way, she learned about her mother's fate, and she worked to resolve her relationship with her father [after he returned]. That is key to her identity and who she is. That is at the front of her story: what is going on with Max."
As for Max's illness, "It's going to be resolved in a way that hopefully no one is expecting," Peterson previews. "But dealing with the fact [that] someone she has worked so hard to resolve her differences with, has an illness."
One key figure will be MIA during Max's illness: his son, Russ (Loren Dean). Dean appeared in five episodes of the show's earlier era, but hasn't been on-screen since Season 3. (Dean has left acting.) "We looked at [Russ' return], but it seemed like he has moved on," Peterson says. "We tried to resolve it another way."
Bones, Tuesdays, 9/8c, Fox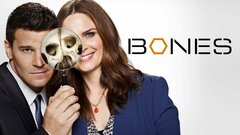 Bones
where to stream
Powered by