Roush Review: 'Riverdale' a Twisted Take on Archie & Co.
Archie's working blue these days—and I'm not talking about his letterman jacket.
If the sexualized, stylized shenanigans of The CW's twisted new guilty pleasure Riverdale are any clue, the sentimental education my generation got from the Archie comics of yore is clearly a thing of the past. Long after I grew out of my comics phase, I became aware of the darker evolution of this brand, but still, who'd have predicted such a cheery burg would become Dawson's Creek by way of a Love Canal of murderous teen angst.
This perversely compelling mystery melodrama has echoes of Twin Peaks and even 90210—Luke Perry is Archie's divorced dad!—in its pop-culture-obsessed DNA. (Yes, I feel old.) With campy shout-outs to contemporary touchstones like Blue Jasmine, Donnie Darko and Mad Men—a character is snarkily described as "Season 5 Betty Draper" as a fat joke—the wildly overwritten dialogue from creator Roberto Aguirre-Sacasa also glories in fetishistic vintage throwbacks. The newly arrived and vampish Veronica Lodge (Camila Mendes), who swans around in high fashion like a refugee from Gossip Girl, says she represents "Breakfast at Tiffany's in an In Cold Blood world." Everyone's gay BFF Kevin Keller (Casey Cott) jokingly describes himself as "devastatingly handsome in that classic pre-accident Montgomery Clift kind of way."
RELATED: Riverdale Star Lili Reinhart's Connection to Her Character: 'I Am a Betty'
Does anyone really talk like this? Not the point. And are they all Turner Classic Movies junkies? (Let's hope.) The tone is set from the portentous purple-prose voice-over prologue by moody blogger Jughead (Cole Sprouse), who introduces us to his small town that "from a distance … seems safe, decent, innocent. Get closer, though, and you start seeing the shadows underneath."
Said undercurrents include presenting the eternally earnest Archie Andrews (KJ Apa) as a ripped "ginger stallion," who's secretly getting it on with a cougar-ish Miss Grundy (Sarah Habel). Veronica's family is embroiled in a Madoff-style financial scandal, and even sweet girl-next-door Betty (Lili Reinhart) has a dark side, and is being fed Adderall by a control-freak mother (Twin Peaks' Madchen Amick). Their nemesis: haughty Cheryl Blossom (Madelaine Petsch), a Mean Girl who wouldn't be out of place among Fox's toxic Scream Queens, but even she can't ignore Archie's "Efron-esque emergence from the chrysalis of puberty."
RELATED: Riverdale Isn't Your Childhood Archie Comics
Yes, it's all a bit much, like Glee minus the glee. Although Josie and the Pussycats thankfully still exists, a girl group that could challenge those brats on Fox's Star. Their hard-charging cover of the Archies' classic "Sugar Sugar" is a backdrop for the River Vixens cheerleading squad to provide a grinding musical inter-lewd—in the rain, naturally.
Plot-wise, the mysterious death of Cheryl's twin brother Jason the previous summer is the catalyst for Riverdale's plentiful intrigues, but the real message here is: The kids are not all right. Which is OK with me. And I did laugh when Veronica calls out to her red-headed new buddy, "Hey, Teen Outlander!"—which pretty much defines putting the "arch" in Archie.
Riverdale, Series premiere, Thursday, Jan. 26, 9/8c, The CW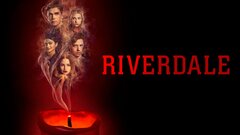 Powered by