'Destination Fear' Crew on Why Their Terror Is Very Real
If you're looking to escape from those warm and fuzzy holiday movies, Destination Fear has a gift for you. Dakota Laden and his sister Chelsea Laden join friends Tanner Wiseman and Alex Schroeder for season 4 of the hit paranormal investigative series. They fire up the RV for a road trip paved in terror, spending their evenings' lights out inside America's most haunting locations.
Kicking off with a two-parter, the premiere finds the crew venturing to the Cresson Sanatorium in Pennsylvania. The largest location they've taken on so far, exploring a vast 20-building property that once served as a sanatorium, mental hospital, and prison for those including notorious serial killer Joseph Kallinger The results of their experiment may encourage you to leave the lights on and put on a Christmas special on after. Brings new meaning to Black Friday.
We caught up with the foursome to reflect on their experiences and tease the not-so-silent nights to come.
Entering season 4, what do you think has made your series connect so much with audiences?
Dakota Laden: I think people have such a good bond with the show because we have a good bond. That was one thing that was super important to me when doing the show is that it was us. Nobody else. We truthfully are best friends. We all grew up with each other. We're close enough that we can push each other and give each other crap. When we meet fans on the road and at conventions, people tell us it's fun to watch our dynamic.
Chelsea Laden: It's that we are not experts. We will probably never be experts, but we are more aligned with the everyday explorer. Someone who is curious.
Tanner Wiseman: That we're not afraid to be afraid. I think people often go into these scary places and try to show no fear, try to be bigger at the moment. I think because we are such big fans of the genre and have been watching since we were younger, we wanted to go in there and showcase that it is scary and it is okay to be afraid. That is true emotion. We wanted to showcase our true selves, and I think that is what made us relatable.
The bar continues to be raised. Take the two-part Cresson Sanatorium investigation for example.
Dakota: I had to take us there. One of the biggest things we realized right away was this place is so much bigger than anywhere we'd ever gone. It has a much darker history. Right away, it was pretty obvious we had to make two nights of this. There were 20 buildings. The decision to spend the night twice, I'm so glad we did because when you watch episode one, it's really scary. It's a really freaky night. We come back the next night and the second episode is straight out of a horror movie. It's so scary. I believe it got worse because whatever was there got comfortable with us.
Chelsea, I'm excited about you all stepping into the Winchester Mystery House. What drew you to that one?
Chelsea: It was a bucket list location for all of us. Somewhere we all wanted to go at some point in our careers. It is an absolutely awesome episode, but it's equally about the location. The Winchester Mystery House has an incredible backstory and a very bizarre floor plan.
You've done the Ashmore Estates before. What can we expect this time around Alex?
Alex Schroeder: I was not part of the Trail to Terror in the exploration, so they went to that location as a group This time when I picked the location I get to bring them back, but this time everyone is going in alone. I sent every person in, one by one to experience the entire building all by themselves with no flashlights. Nothing but camera and equipment. The thing that is cool for me is I got to experience so many things that happened to others so many years ago.
You're also the first show to gain access to the Norwich State Hospital. What kind of red tape did you have to go through?
Dakota: Norwich has been one of the places we wanted to go since we started researching haunted buildings. We got lucky this time around that a new group of people came in to help manage the property and were fans. They even cleaned it up a little bit for us to make it safe. To gain access there was the hardest part, but this location blew me away. The size, everything. It was the biggest asylum in the country at one point. It did some of the worst experiments in the world, and we got access for the first time ever to the Lippitt Building, which is the building where the experimental treatments were performed. It was a complete nightmare.
What was your takeaway after filming wrapped for the season?
Tanner: That no matter the amount of times we do this, it doesn't get easier. We are still extremely scared. We have jump scares all the time. It's bizarre. Knowing what happened and the events, it is still difficult as if it was the first night.
Chelsea: Every season we try to learn from what we've done. We can't change what we experience throughout the night, but we can change the environment. We can change the equipment we use. We can change how we do things. I think how we do things remains the same, but we did add some new equipment this year. That added to the fear being heightened. Also, the common theme of darkness this season. Every time we were isolated and alone, that amplified the fear as well.
Alex: How we can use the tools we learned from our past road trips actually to get through, even alone in the dark. Go back to season 1, where we'd never want to split up as duos. We were huddled together as a group almost the entire time. We would never be able to do the things we did this season without those experiences before. Going into this, I didn't think I could last all eight episodes completely isolated in the pitch-black without flashlights. It was a challenge. After it felt good and brought a sense of accomplishment.
Dakota: Every season we've tried to get better at chasing the fear versus fleeing the fear. I think this season not having flashlights really forced us to really put ourselves in these situations. When you don't have a flashlight, you can't really flee because you can't run because you can't see. There is a lot of that this season.
When you're on the road, do you bring a particular comfort from home?
Tanner: The one thing that brings me comfort and Alex too is the crosses on necklaces. It's a sense of protection that you have something on you that represents religion and wards off any negativity or something that will try to latch on to you. It's always at the forefront.
Alex: One thing that brings us a little bit of comfort in every episode is we hide a rubber duck. It has kind of been our mascot with everything we've done in our lives. Having this rubber duck around brings us that comfort.
I spoke last year with Steve Gonsalves at Ghost Hunters. He talked about how much fun they had with you all. Any talk of future collaborations?
Dakota: Funny you mention Steve from Ghost Hunters because we may or may not be working with them again. We may or may not be. Might be.
Destination Fear season 4 premiere, November 25, 9/8c, Travel Channel and streaming same day on Discovery+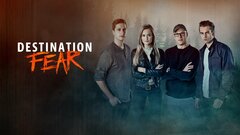 Powered by